Texas Hospital Suspends Almost 200 Workers Who Didn't Get COVID Vaccine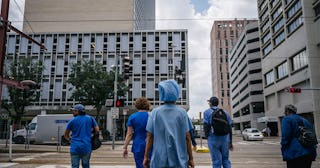 Brandon Bell/Getty
Texas Hospital suspends healthcare employees because they refused to get the COVID-19 vaccine
One would think that healthcare workers would believe in science and understand the seriousness of the COVID-19 pandemic, but apparently, they don't? At least not all of them. Despite working in the medical field, there are still a number of anti-vaxxers in the health care community and for this reason, a Texas hospital just had to suspend nearly 200 employees because they refused to get the COVID-19 vaccine. This news also comes after a nurse tried to prove that the COVID-19 vaccine turned her body into a magnet, and I'm tired, y'all.
CBS reports that Houston Methodist — the first medical establishment in the U.S. to issue a vaccine mandate — announced that all employees would need to get vaccinated against COVID-19 and now, the 178 workers who refused have been suspended for two weeks without pay. Of that 178, a little over two dozen had received their first dose but were suspended anyway because they didn't meet the Monday, June 7, 2021 deadline despite having plenty of time to get vaccinated.
The suspension is just a warning, because according to an internal memo, employees will be terminated if they have not gotten vaccinated by June 21, 2021.
The hospital reportedly gave out $500 bonuses if you got vaccinated back in March and made it known that eventually, the shots would be mandatory for employment.
But as usual, anti-vaxxers remain on their bullshit, as a group of 117 of those unvaccinated employees has sued the hospital claiming it "is forcing its employees to be human 'guinea pigs.'" Yes, the old "guinea pig" argument about a vaccine that has gone through extensive trials using mRNA technology that has been studied for decades.
The upside (if there is one) is that the hold-outs represent only about 1% of the hospital's employees, so at least 99% of the hospital is pro-vaccine, which isn't something we should have to say about the literal employees of a hospital, but here we are.
"Mandating the vaccine was not a decision we made lightly, but science has proven that the COVID-19 vaccines are very safe and very effective. Like I say to everyone who asks — whether they are reporters, the public, patients or our employees, it is our sacred obligation to do everything possible to keep our patients safe. By choosing to be vaccinated, you are leaders — showing our colleagues in health care what must be done to protect our patients, ourselves, our families and our communities," Dr. Marc Boom, Houston Methodist's president and CEO, told employees in late April in an emailed message (obtained by CBS).
And for the record, the Employment Opportunity Commission's official stance is that employers are allowed to require COVID-19 vaccines.
Also, other medical centers are following in Houston's footsteps.
University of Pennsylvania Health System is requiring all employees be vaccinated by September 1, 2021. All nurses, doctors, and employees at most of D.C.'s hospitals and health systems must get the vaccine as a condition of employment. University of Maryland Medical System and Johns Hopkins Medicine in Maryland will require employees to get vaccinated by end of summer. At this point, these unvaccinated healthcare workers are going to have one helluva job find the few medical jobs that will allow their unvaccinated selves on the premises. At this point, you have to wonder what are the benefits in not getting vaccinated?