4.3 Million People In Texas Without Power Following Extreme Winter Storm
by Cassandra Stone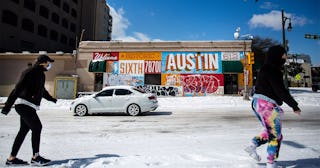 Montinique Monroe/Getty
Photos show terrible conditions millions in Texas are facing following an unprecedented storm
Millions of Texans are without power after a winter storm brought bitterly cold temperatures, snow, and ice to the typically fair-weather state. The National Weather Service is reporting temperatures in the negative digits to last through the first half of the week in North and Central Texas.
Nearly 4.3 million Texans are without electricity following the piercing cold after the power grid failed, per Axios. The power grid in Texas is powered mostly by wind and natural gas, and typically handles the hot and humid summers of Texas just fine — despite the increase in demand for power due to the heat. Unfortunately, severe winter weather resulted in a cut in power supply as the falling temperatures increased the demand for power exponentially.
The Texas National Guard is being deployed to help transport people to heating centers. Additional state agencies will send resources and personnel to help Texas officials clear roadways, according to Texas Gov. Greg Abbott.
"The state has also deployed resources to assist Texans without power and to help essential workers continue to carry out their jobs," Abbott said in a statement. "In the meantime, I encourage all Texans to continue to stay off the roads, and conserve energy as state agencies work with private providers to restore power as quickly as possible."
Rolling blackouts were initially scheduled for Monday statewide to conserve Texas' energy supply, but have now been extended through Tuesday, and will possibly last longer depending on temperatures and necessary energy consumption. Frozen wind turbines and a limited gas supply are also contributing to the state's power grid struggles.
Some energy providers are telling those in North Texas to expect their power outages to be "significantly extended" and recommended customers be prepared to be without power indefinitely, or at least until power grid circumstances become more clear.
The power supply outages in Texas are also affecting millions of people in northern Mexico, according to The Associated Press. Almost 5 million Mexicans were left without power as well.
As of Monday night, at least two deaths directly related to the freezing temperatures were recorded in Houston. Texans overall are resorting to desperate measures to stay warm — with some staying in their cars with the engines running, and others using charcoal grills indoors to stay warm, resulting in the entire family being hospitalized for carbon monoxide poisoning.
Because Texas does not typically see freezing temperatures, most homes and apartment buildings throughout the state are built with very minimal insulation, which just increases the desperate need for warmth as residents can't count on their own homes to keep them warm for long. Many hotels in Texas are already fully booked or are also without power.
Gov. Abbott issued a disaster declaration for all 254 counties Friday after the White House granted Abbot's request for a federal emergency declaration in the state. Let's hope temperatures rise and power is able to be restored as soon as possible.