by Maria Guido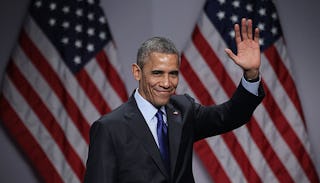 Image via Alex Wong/Getty Images
Today is officially Obama's last full day as President of the United States
I stood in line for five hours to vote for Obama in 2008. Five hours. It's hard to explain the feeling that surrounded everyone there — they were in such a good mood. We were voting for someone we believed in. And when CNN called Florida for Obama that night, and we realized we'd won, my Brooklyn neighborhood erupted in a joy I'd never seen before.
We won. Because with Obama, it was never about him. It was always about us. That's how he made us feel.
People poured into the streets. Strangers were hugging and high-fiving. Buses that could barely get through crowds were being manned by smiling bus drivers. People inside the busses and people on the streets were raising their arms in solidarity.
We felt hopeful. We felt happy. We felt like we finally reached a point where anything could happen — because the best man won. And he was black. It was a first. We finally felt like a tide was changing.
"If there is anyone out there who still doubts that America is a place where all things are possible, who still wonders if the dream of our founders is alive in our time, who still questions the power of our democracy, tonight is your answer," Obama started his acceptance speech.
"America, we have come so far. We have seen so much. But there is so much more to do. So tonight, let us ask ourselves — if our children should live to see the next century; if my daughters should be so lucky to live as long as Ann Nixon Cooper, what change will they see? What progress will we have made?
This is our chance to answer that call. This is our moment…"
Those words Obama uttered in 2008 have never been truer than now. We will not stop fighting to be on the right side of history — we can't. Tomorrow may feel like a punch in the gut, but on Saturday, we'll get up and remember that America is a place where all things are possible. That democracy is about work, dissent, protest — not silence. That we won't go quietly in to the night. We're starting the first full day of Trump's presidency with a really loud message…
"Yes, we can." Remember that?
Yes, we can. We can overcome an oppressive administration. We won't be silenced. We won't see our rights stripped away.
So thank you, Obama, for giving us the hope that we needed. Thanks for all your words that served as a push. Thanks for being a kind, decent man. Thanks for celebrating the force that is your wife, Michelle, endlessly. Thanks for modeling what a great father can be. Thanks for being the first president in my children's young lives.
And apart from that, thanks for…
Passing health care reform. Creating 15.5 million new jobs. Passing Wall Street reform. Negotiating a deal to block a nuclear Iran. Taking climate change seriously. Eliminating Osama Bin Laden. Repealing "Don't Ask, Don't Tell." Supporting Federal recognition of same-sex marriage. Giving the FDA the power to regulate tobacco. Passing credit card reforms. Cutting Veteran homelessness by half. Cutting the deficit. Improving school nutrition. Signing the Lilly Ledbetter Fair Pay Act in 2009. Protecting LGBTQ Americans from employment discrimination. Blocking states from defunding Planned Parenthood … the list goes on and on. You were a damn good president.
Just… thank you. Thank you. Thank you.
This article was originally published on