'Strangers' Share 4th Thanksgiving Together After Accidental 2016 Text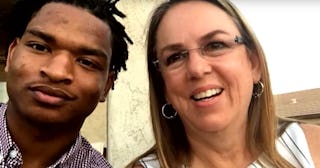 ABC News
The Thanksgiving tradition is now in its fourth year and it's the sweetest thing
This story is just a solid reminder, if nothing else, that grandmas are gonna grandma and there's nothing you can or should do to stop them. When grandma Wanda Dench accidentally sent a text to a stranger back in 2016, she never would have expected the unlikely friendship that bloomed with the teen boy who received it — now in its fourth year running.
Jamal Hinton was just 17 years old and living in Phoenix, Arizona, when he got a text from an unsaved number about Thanksgiving Day plans. Dench's text outlined the when and where of the family's Thanksgiving celebration. Since he didn't recognize the number he asked the sender to text a picture and, well, please enjoy the rest.
Hinton sent a selfie in response to show her that the two were not, in fact, grandmother and grandson. But all in good fun, of course.
He asked if he could still "get a plate," and she enthusiastically agreed — because what's a grandma that doesn't feed people, right?
Ever since the initial text exchange back in 2016, both Dench and Hinton have celebrated the holiday together. "[Wanda] is a really good person," Hinton tells Good Morning America. "I really enjoy the time I spend with her."
"It just clicked when I met him and first talked to him," Dench told NBC News in 2016. Since then, he's gone over to his "adopted grandma's" house every year. "2016, 2017……2018," he wrote next to the caption last year. She says Hinton always has an open invite to her Thanksgiving celebration every year because she believes they met for a reason. "There are no accidents in life," she says.
Hinton says his actual grandmother is also amazing and he typically goes to her house after the Dench family Thanksgiving to spend time with her. Last year, he told People that their relationship extends beyond the holiday.
"She sent me a couple gifts cards for Christmas," he said. "She also talked to me around my high school graduation, and we've been keeping in touch here and there."
Could this friendship be any cuter? It's exactly the type of goodwill and pure sweetness we all need a strong dose of this time of year. The two plan to celebrate again this year, too.
Dench tells Good Morning America that she grew up in the military. "We moved around a lot so I was always going to new places. And so strangers were not strangers to me," she says."Family is more than blood," Dench added. "It's the people you want to be with."
This article was originally published on