Here's The Intense First Look At The Gypsy Rose/Dee Dee Blanchard Movie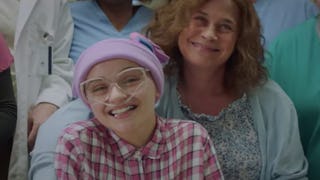 Image via YouTube/Hulu
The disturbing story of Dee Dee and Gypsy Rose Blanchard is coming to Hulu in March
Perhaps the most fascinating and troubling mother/daughter relationship in history is that of Dee Dee Blanchard and Gypsy Rose Blanchard. Now Hulu is bringing their story to life through The Act, a seasonal anthology that tells the story of Gypsy Rose's desperate attempt to escape the lifelong abuse of her mother.
The Blanchards' true crime story first made national news back in 2016, after a BuzzFeed News exposé unearthed the heartbreaking and bone-chilling lives of Dee Dee and Gypsy Rose.
Here's the teaser trailer, starring Patricia Arquette and Joey King.
Last year, HBO premiered the documentary Mommy Dead & Dearest, which covered Gypsy Rose's murder conviction after she admitted she killed her mother in 2015. She claims her mother made her a victim of Munchausen syndrome by proxy — she says her mother invented and induced a wide range of illnesses for Gypsy's entire life.
Dee Dee allegedly kept Gypsy captive in her own home (which was built for them through a charity, due to Gypsy's "illnesss") and forced her to undergo serious medical procedures and take medications to maintain the impression that her daughter was terminally ill.
According to the BuzzFeed piece and the documentary, there's a long list of medical issues Dee Dee claimed her daughter suffered from: leukemia, muscular dystrophy, asthma, epilepsy, hearing loss, and chromosomal defects that, according to medical records, left her daughter with the "mental capacity of a seven-year-old."
Gypsy was forced to use a wheelchair even though she has since shown she's always been capable of walking without assistance. Dee Dee also regularly shaved her daughter's head so she always appeared "sick." At one point, Dee Dee's manipulation with medical professionals led to Gypsy getting a feeding tube when she didn't need one. Her teeth eventually began to crumble and fall out due to malnutrition.
Can you imagine how painful all of this must have been for Gypsy? And because Dee Dee began manipulating and abusing her this way from an extremely early age, Gypsy spent her childhood simply going along with whatever her mother said — because she isolated her from everyone else in her life, including her biological father. She trusted her mother, because that's what kids do. It's heartbreaking.
In June of 2015, Dee Dee was found stabbed to death. Gypsy Rose and a boyfriend she met online, Nicholas Godejohn, were charged with first-degree murder. Gypsy was eventually convicted, but was sentenced to serve only 10 years (and will likely get out even earlier).
The Act looks like it's not going to leave any detail of this tragedy unturned. Joey King shared a video about getting into character on her Instagram page:
In an interview with Teen Vogue, King (who previously starred in Netflix's The Kissing Booth) says it was important to tell Gypsy's story the right way. "I just want to make sure that if she ever sees the show one day, I want her to know that we wanted to do right by her," she says. "The story is so messed up and there are so many layers, and it's so, so heavy. I never want it to feel like we're making fun of the story or we're doing anything to romanticize it. It's nitty-gritty; it's really disturbing."
The series premieres on Hulu Wednesday, March 20th.