'The Christmas Chronicles' Is The Holiday Movie Of The Year
by Clint Edwards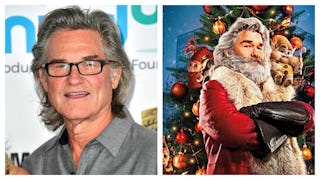 LEFT: Frazer Harrison / Staff/Getty; RIGHT: 1492 Pictures/Madhouse Entertainment/Netflix/ Wonder Worldwide
Is it okay for me to begin this post with a confession? Okay… deep breath… I kind of adore Kurt Russell. It began with Big Trouble In Little China. I wore out the VHS tape watching that movie over and over as pre-teen. The Thing scared the crap out of me in all the right ways, and Overboard made me fall in love with Goldie Hawn. It also made me want to open my own miniature golf park. I'm still working on that.
But when I heard Kurt Russell was going to play Santa in the Netflix original, The Christmas Chronicles, I was a little surprised. But let me just say, he does not disappoint.
The Christmas Chronicles was released on November 22, and on Thanksgiving Day, our family watched it while the turkey did it's thing in the oven. Turns out we weren't alone. The movie was streamed 20 million times during its first week.
"Even in his successful career, [Kurt Russell] has never had that many people see one of his movies in the first week ever," Netflix chief content officer Ted Sarandos told Business Insider. If you compared the movie's release to a more traditional theatrical rollout, then the Netflix viewing numbers would translate into a first week gross of $200 million. "Even movies that go on to $1 billion don't typically do that in the first week," Sarandos said.
That's pretty amazing!
Naturally, it isn't clear how many of those 20 million were repeat viewings because it is just that good (I've already watched it twice).
Now, just to give you a taste of the plot line, the move is centered on a brother and sister who lost their father (author sheds a single tear). They sneak onto Santa's sleigh resulting in the sucker crashing in downtown Chicago. The characters spend the rest of the movie, more or less, trying to get out of Chicago to save Christmas.
Those of you who have seen Escape from New York, an all-time Kurt dystopian classic, where Manhattan has been turned into a prison and Kurt Russell's character, Snake Plissken, has to save the president in order to save America, it's easy to see a common theme. In fact, there were moments when I wondered if Snake really turned himself around and became Santa.
But the real charm of this movie isn't exactly the plot; it's Kurt Russell playing Santa. He adds this determined edge to the film that makes the character all the more believable. He argues with other characters about how he doesn't "Ho, Ho, Ho" and how he hits the gym everyday, and that's why he's so offended by all the commercial images of Santa. But at the same time, he knows about all the toys, and all the lists, and it's difficult finish the film and not say to yourself, "That Santa really cares about… well… everyone."
While there is a musical number that I found a little regrettable, let's look at the facts. I am a father of three children, ages 11 and under. All five of us watched this movie together, and we all, even the four-year-old, loved it. They laughed, they got nervous, and they got excited. My middle daughter wants me to get her one of The Christmas Chronicles' elves for Christmas. Not a stuffed one, but a real one because they were so adorable.
If you've ever watched a magic egg video, or an episode of Annoying Orange, you know how flat out bad child-centered programing is right now. Sometimes it feels impossible to find a film that the whole family can enjoy. To give this some weight, I took my son to see the Captain Underpants Movie a while back, and honestly, if I had two hours left to live, I'd spend them in that theater, because it felt like an eternity. The fact that this movie appeals to the whole family, while also getting everyone in the holiday spirit, is what makes The Christmas Chronicles such a gem.
Christmas is right around the corner, and I cannot recommend this movie enough. It's has the feel. It has the funny. And it has the charm. You will love it, and your children will love it, and if you are a Kurt Russell fan, like me, there's even a little surprise at the end. But I won't spoil it for you. You'll have to find out for yourself.
Add this movie to your holiday bucket list.
This article was originally published on