The 'Companion App' Will Help Parents Of College Students Breathe Easier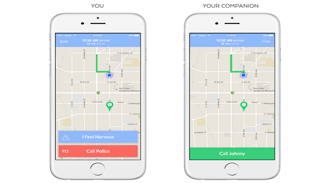 One of the realities of venturing out in life on your own is that there are plenty of times when you feel unsafe — especially when you are walking home alone at night. A new free app that lets users have friends or family "virtually walk them home" is a fantastic idea, and it's gaining popularity not only in America, but all over the globe.
The Companion app was created by five students at the University of Michigan, to aid students walking home at night on college campuses. Here's how it works: the user has a list of contacts they choose to notify when they begin a solo trip; the contacts don't even have to have the app installed. When friends or family are contacted, they receive a link that takes them to an interactive map showing the user walking to his or her destination.
The user inputs their destination and selects their mode of transportation.
They add friends or family that they want to "walk" them home.
The user can reach out to their friends or local police department with just a tap.
User can set off a smart trigger so friends can check on them.
If a user does not confirm that they are fine within 15 seconds of setting off a smart trigger, the Companion app turns the user's phone into a personal alarm system that projects loud noises to scare any criminals off and gives friends and family the option to call police. If the user calls 911, the app will also contact University campus police if the user is on campus, but only if the University has registered with the app. "If the user strays off their path, falls, is pushed, starts running, or has their headphones yanked out of their phone, the app detects these changes in movement and asks the user if they're OK," reports Business Insider. If the user doesn't respond, 911 is called.
As a woman who spent most of her adult life living in big cities alone, this app is very comforting. Walking home alone at night, whether on a college campus or on city streets can be very stressful. The mere comfort and security that this app provides would be enough for me to purchase it. And now as a mother who will one day have college students to think about – this app is a godsend. It's a fantastic idea — it takes simple awareness of danger to the next level by acting proactively to do something to prevent it. No wonder it's taking off.
The best part is, our college students can decide who they want to "walk" them home – so it can't default to an app parents use to keep tabs on their kids. Our kids need their freedom – they also need a security blanket at times. This app provides both.
This article was originally published on