The Coolest Supplies For Your Aspiring Artist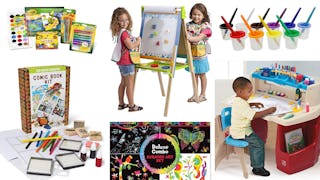 Images via Amazon
Your little Pablo Picasso or Frida Kahlo will love these arts and craft supplies.
If your kid is anything like mine, they need a creative outlet. As in, they need actual paper to create things on or they will draw on whatever else they can find. Here are some products we love that will make any artist squeal with delight, and hopefully keep your walls marker-free:
This Make-Your-Own Comic Book Kit is the perfect present for encouraging creativity, as the storytelling possibilities are endless. Includes 32 blank comic book pages, markers, stencils, stamps, ink, and storage box. Cape not included.
The Big Creativity Can has a ton of creative combinations with over 100 craft components. Kit includes air-dry clay, googly eyes, feathers, pipe cleaners, felt, pom poms, popsicle sticks, scissors, and more.
This Crayola Washable Paint and Craft Set features over 40 painting supplies, and all products are washable so enjoy painting with kids, without the anxiety about the mess.
This Deluxe Art Master Kids Desk features a large work surface with organized compartments and a hinged dry-erase writing surface that wipes clean easily. Your little artist will love having a creative space of their own.
The Light-Up Tracing Pad includes 1 graphite pencil, 12 colored pencils, 10 tracing sheets, 10 blank sheets, and over 100 traceable images. I kind of want to get one for myself, too.
This Slime Kit has 18 different colors of slime, as well as other eco-friendly materials that are non-toxic, and safe to use. And making slime is great for fine motor skills, and distracting them for 30 minutes so you can drink your coffee while it's hot.
A Spirograph Design Set is inspired by the design of the original 1965 Spirograph. So this set will entertain the whole family for generations. It's basically The Beatles of arts and crafts.
This Hand Stamped Jewelry set is the perfect gift for creating cute jewelry that people will actually want to wear. It's a great idea for your artist who wants to make their own gifts for the holidays.
Rock Painting Kits are all the rage these days. Rocks included! Comes with 8 waterproof paint colors, transfer designs, and tracking stickers. They're a great way to personalize any outdoor space.
Paint Lab for Kids is the perfect book for aspiring artists of all ages. It features 52 fun, fresh, and kid-friendly art lessons that each explore a paint medium, technique, or effect. It encourages young artists to have fun with paint.
This Children's Washable Tempera Paint Set is perfect for kids because they're fun, safe, easy to use on any surface, and the best part: they clean up with soap and water.
Since paint can get a little messy (even the washable kind), No-Spill Paint Cups are a must-have that will save you some time when you're inevitably the one who'll clean it up.
This 3-in-1 Art Easel has a double-sided easel with a chalkboard on one side, a magnetic dry-erase board on the other, and a paper roll for painting and drawing. Its adjustable height goes up to 49″, making it a great fit for kids 3 and older.
This Scratch Art Set has boards and papers feature exciting colors and patterns hidden beneath a matte coating, plus a wooden stylus to scratch away and reveal them. Comes with supplies for 16 projects.
Every kid should have a Color Your Own Water Bottle Kit. This BPA-free water bottle encourages kids to stay hydrated while cutting down on unnecessary plastic waste.
A Backseat Organizer is a great gift for traveling artists. And it will keep them distracted so you don't hear, "How many more minutes 'til we get there?" every 30 seconds.
Whatever you choose to get for your budding artist, it is sure to be a worthwhile investment because nurturing creativity is important. And with any luck, they will keep your artist from using your bedspread as a canvas.
We are a participant in the Amazon Services LLC Associates Program and may earn fees by linking to Amazon.com and affiliated sites.
This article was originally published on