Homeland Security To Compile Database Of Journalists Which Is Creepy AF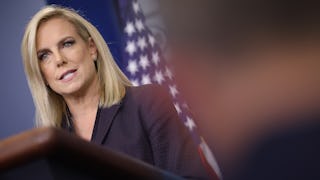 Image via Win McNamee/Getty Images
The government wants to collect information about the media and "media influencers"
The Department of Homeland Security (DHS) wants to create a huge database of media influencer information, and the slightly worrisome thing about it is that the government won't say why they've started this large project or how they're going to use the data they amass.
The story, which was originally reported by Bloomberg Government and involves this Federal Business Opportunities entry, emerged after DHS began searching for a contractor that could track 290,000 global news sources and social media accounts in over 100 languages. These news sources would not just be newspapers and television stations, but individuals, including, "journalists, editors, correspondents, social media influencers, bloggers etc."
DHS wants the database to be organized by "location, beat and type of influencer," and wants the contractor to "present contact details and any other information that could be relevant, including publications this influencer writes for, and an overview of the previous coverage published by the media influencer." All of this information would be available 24/7 and accessed with a password.
Most alarmingly, Forbes reports, the database would collect information about influencer "sentiment."
It's not at all clear why DHS wishes to track this information and these news sources, though the request comes at a fraught time for media, journalism, and the press. President Donald Trump has a history of calling out specific journalists and media companies for "fake news," usually immediately following negative reporting about his administration.
At the same time, there's concrete evidence that foreign governments, most notably Russia, are influencing United States elections through social media and fake reporting, while extreme partisan groups have circulated literal fake news across platforms like Facebook and Twitter. Just recently, the Sinclair Broadcast Group was called out for forcing local news anchors across the country to read a forced script of conservative talking points regarding fake news and biased media sources.
In other words, this "media monitoring" database information could be used, for example, to reign in the freedom of the press and intimidate media members, or it could just as likely be used to help stop actual fake news sites and election meddling. Or both. Or neither. It's hard to say, because DHS isn't explaining their expansive, mysterious project further.
While DHS Secretary Kirstjen Nielsen stayed quiet about the request for work, DHS Press Secretary Tyler Q. Houlton took to Twitter on Friday to argue that the unprecedented move is "nothing more than the standard practice of monitoring current events in the media," and that "any suggestion otherwise is fit for tin foil hat wearing, black helicopter conspiracy theorists."
While many organizations collect information about the media, this would be the first time DHS compiled such information of this scope. The Department of Homeland Security didn't release any official statement regarding the database request, instead referring media outlets to the Houlton tweet.
His tweet got responses from a few citizens who pointed out that collecting such information about the media could easily lead to controlling, punishing, manipulating, suppressing, or intimidating the press–some of whom engaged in some not-to-subtle word play.
So far, seven contractors have bid on the database contract. Bids are due on April 13, though it's not clear when the project would be completed.
This article was originally published on