'The Fearless Girl' Is Staying, And The Men Of The Internet Are Throwing A Tantrum
by Maria Guido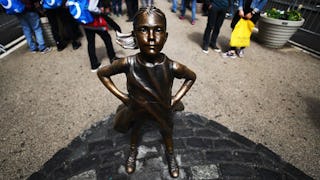 Image via JEWEL SAMAD/AFP/Getty Images
'The Fearless Girl" will keep her spot on Wall Street
The statue of "The Fearless Girl" appeared on Wall Street on the eve of International Woman's Day, at the beginning of Women's History Month. It was originally slated to stay for just two weeks, but was so instantly beloved that the city extended the permit. Yesterday, NYC Mayor Bill de Blasio announced the statue will stay until February 2018.
"Now, she'll be asserting herself and affirming her strength even after her temporary permit expires — a fitting path for a girl who refuses to quit," de Blasio told the New York Daily News.
On the base of the four foot statue, a plaque reads: "Know the power of women in leadership. SHE makes a difference." So of course, men of the internet just aren't having it. Every thing, every day, everywhere needs to be about them. When it's not — all hell breaks loose.
And pouting.
The Charging Bull was created and installed following the 1987 stock market crash, as a symbol of "the strength and power of the American people." It was an act of guerrilla art, created, paid for, and installed by the artist Arturo Di Modica. The bull has become a symbol of the strength of the American stock market. The Fearless Girl represents the gender diversity that is lacking across senior leadership on Wall Street.
The Fearless Girl was created "to celebrate the first anniversary of its 'Gender Diversity Index' fund that 'invests in U.S. large-capitalization companies that rank among the highest in their sector in achieving gender diversity across senior leadership.'"
No.
Again, it has everything to do with economics — and workplace gender diversity.
Women make up fifty percent of the population. They earn more degrees than men and they make up nearly half of the labor force. We do, quite frankly, drive the economy forward.
Actually, it sends just the right message — that women are facing gender inequality in the Wall St. workforce head on.
Mansplaining: the Facebook comment.
There have been critiques of the symbolism of The Fearless Girl: that she's a corporate gimmick, that she takes away from the intent of the original statue, and that she'd be better served as a strong, fierce, woman — rather than a little girl. The artist behind the bull has also expressed his displeasure with the girl's addition to his massive art piece's place on the concrete. But there are plenty of people who are happy it's staying.
Regardless, it's a reminder of the opposition women face — at just about every turn. Even a little bronze statue is causing an uproar.
This article was originally published on