The 'Gilmore Girls' Revival Of Your Dreams Is Really Happening
by Ashley Austrew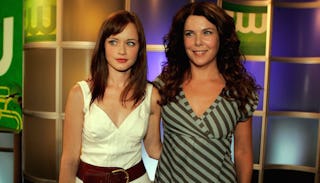 If Gilmore Girls had a flaw, it was only that the show ended. Now, the Gods at Netflix are rectifying that unfortunate situation. Yesterday, TVLine announced that Netflix is bringing the show back for the four-episode encore of your dreams.
The popular show originally ran from 2000-2006 before it abruptly ended and the people of Stars Hollow faded from your life like pre-social media high school acquaintances. Everyone got excited when Netflix began streaming all seven seasons last September. Now they've taken things a step further and are in talks to produce four 90-minute episodes that promise to tie up the the series' loosest ends.
Reps for Warner Bros and Netflix declined to comment on the revival, but Lauren Graham, who plays Lorelai on the show, all but confirmed the news in a tweet yesterday afternoon.
TVLine said it best: this is not a drill!
Negotiations with the show's original cast have begun and Amy Sherman-Palladino, the show's creator, is slated to write the 90-minute mini-movies. In 2009, she told Entertainment Weekly she wasn't happy with the way the show ended. She promised if she ever got a chance at a revival, she'd "do it correctly" and tie up her masterpiece in a way that feels fitting. This is her big chance.
When the show originally aired, many of us were much younger and had yet to birth any little Rories of our own. Lorelai was very much the cool mom we all looked up to or hoped we'd one day be, but most of us didn't have a lot of experience actually raising a human being. This revival is not just a chance to catch up with our favorite characters, but also an opportunity to relate to an old favorite show in a totally new way.
Gilmore Girls isn't just about a cast of lovable characters, but also the story of a mom and a daughter trying to make their way in the world while maintaining a relationship that respects boundaries and stays positive and supportive. That's something so many of us can relate to with our own kids and parents. The premise of Gilmore Girls is still just as compelling and just as vital as it was when we were younger. Plus, now we can relate so much more to their desperate need for coffee.
I'm excited at the prospect of seeing Sookie, Luke, Jess, Logan, and all of our old favorites again, but I'm even more excited to see Rory and Lorelai evolve further as women, friends, and mother and daughter. The Gilmore Girls always had a little bit of magic in them, and if the creators do this right, it will be just like catching up with old friends after way too much time apart.