There's A 'Golden Girls' Version Of 'Twas The Night Before Christmas'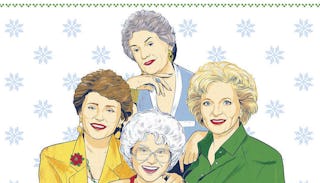 Image via Penguin Random House
The Golden Girls 'Twas the Night Before Christmas is the gift you'll give everyone you know
If you or someone you love (or many someones you love) are fans of the most perfect TV show ever created, aka, The Golden Girls, have we got a holiday treat for you. Our favorite snarky Miami ladies are now featured in their very own version of the Christmas classic, "Twas the Night Before Christmas."
Now you know what gift to bring for that all-girl holiday exchange. You're welcome.
This absolute treasure is available at Walmart for the total bargain price of $9.33. That means you can buy one for every Girls fan on your list — and even a few holdouts who clearly have no idea what they're missing.
Just look at this amazingness.
"A moment later Blanche whirled through the front door. She was wet, she was cold, she was dressed like a…uh…elf."
WE ARE SCREAMING.
Authors Francesco Sedita and Doug Yacka and illustrator Alex Fine have truly outdone themselves on this masterpiece. If ever there were a totally fitting and on-brand tale for Golden Girls fans to read to their loved ones on Christmas Eve, this is it. Everyone can gather round, plates of cheesecake in their laps, and listen to this timeless holiday story.
Of course Dorothy gave the side-eye. We'd march right back and return this book if she didn't.
They even nail the sassy seniors' favorite wardrobe items — and Rose's visions of St. Olaf.
They also got the ending completely right. Hello, squad goals.
The only way this book could get any better is if Betty White herself came over and read it to us as we drifted off.
Thank you for being a friend, indeed.
We are a participant in the Walmart.com Affiliate Program and may earn fees by linking to Walmart.com and affiliated sites.
This article was originally published on