If You Love Marie Kondo You'll Be Obsessed With 'The Home Edit'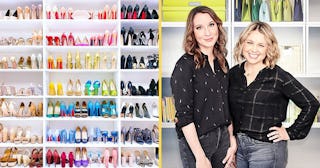 THE HOME EDIT/Instagram and Netflix
"The Home Edit" will be your new organizing binge-watch obsession
I don't know about y'all, but when fall hits, something inside me screams "I need an organized house." Maybe it's wanting it to be all ready for the onslaught of seasonal decor or maybe it's some weird hibernation instinct. Regardless, my Pinterest feed lately includes lots of home organizing tricks, which is why I'm eager to delve into Netflix's new Getting Organized With The Home Edit.
Yup. Netflix is once again blessing us with a show full of hypnotically perfect spaces with every item in its place. After the runaway success of Marie Kondo, it seems the streaming giant is simply giving the people what they want. And what they want is a shoe closet that looks like an actual rainbow.
https://www.instagram.com/p/CEQMK2nBW_4/
So The Home Edit is a bit different from Marie Kondo's quest to get rid of anything in your home that doesn't "spark joy" — all the homes The Home Edit (they're a home organizing company) founders Clea Shearer and Joanna Teplin organize on the show belong to celebs. And rather than a focus on purging, these ladies use their talents to organize spaces until they're picture perfect. This season's slate of famous folks in need of a clean sweep includes: Reese Witherspoon, Rachel Zoe, Khloe Kardashian, Neil Patrick Harris, and several others.
Now before you lose the whole weekend binge-watching this series, you can while away a few hours browsing The Home Edit's gorgeous Instagram page.
I mean, hello.
https://www.instagram.com/p/CE4w8eshu-x/
Please give me shelves of books in rainbow order, thank you.
https://www.instagram.com/p/CE5VHtwhvjm/
They can literally work their organizing magic in any sort of space.
https://www.instagram.com/p/CCZykoOBHPw/
Oh, did I forget to mention that you can hire them to help out with your own organizing crisis? You can book them by the hour in several cities. So if watching them work their magic on celebs has you itching to fix your own messes, give it a shot. For now, I'm going to binge-watch and dream in perfect, rainbow order.