This Project Spreads Kindness One Rock At A Time -- And Anyone Can Participate
by Megan Zander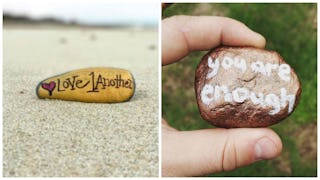 Image via Instagram
The Kindness Rocks Project encourages people to create inspirational rocks and leave them for others to find
Sometimes the world gives us a small sign of encouragement, right when we need it the most. That's the idea behind The Kindness Rocks Project, a pay-it-forward service project created by life coach Megan Murphy in hopes of sparking joy in people's everyday lives.
Murphy lost her parents in her early 20s. Two years ago she was struggling with finding happiness in her career as a business owner. During walks on the beach near her Cape Cod home she would talk to her parents in her head, seeking guidance and assurance about her career choices and parenting skills. "Since they weren't with me physically I would ask for little signs and messages in the form of heart-shaped rocks and pieces of sea glass," she tells Scary Mommy. "When I would find one, I would feel connected to something outside of myself." These small treasures made her feel like she wasn't alone.
During a service trip to India with her daughter, Murphy was moved by the way tiny courtesies made her feel more comfortable in an unfamiliar country. "The simple acts — a smile, holding the door for me, pointing me in right direction, made such a huge difference to me." She came back from her trip with the understanding that small acts of kindness could have a big impact.
One day, she randomly grabbed a Sharpie marker that was by the door before heading out for her daily beach walk. As she walked, she had a thought. "'Maybe I'm not the only one who's walking this beach contemplating life.'" She took the marker out of her pocket and wrote encouraging messages on five rocks along a rock filled stretch of beach. Then she went home.
She soon learned her small action was already making ripples. "That night my friend texted me a picture of a rock and said, 'Was this you?'"she recalls. The friend told Murphy she had suspected her because she knew Murphy walked along that same stretch of beach. Murphy denied her involvement, but was touched by the way her friend said finding that rock had made her day.
She became hooked on the idea that she could spread happiness through something as simple as a rock with a message on it. "I could be that difference, I could be that piece of seaglass or that heart-shaped rock for other people and maybe it could make them feel good," she says of her decision to leave more rocks for strangers to find.
She started leaving her rocks in other places. She also created inspirational garden installations with a few dozen rocks grouped together in high traffic locations like busy beaches or a popular sunset lookout. With these rock gardens she left a small sign explaining the project and encouraging others to leave a kindness rock somewhere else for someone who might need it.
Murphy says the overall idea behind the project is simple. "One rock, one person," she explains. "If a message hits a person at the right time, or they join and they do it in their community and they drop a message that hits somebody when they need it, it's like a huge connection. It's what our world needs right now."
As she explains on the project website, anyone can partake in the project. (If you're unsure where you can leave rocks or if the rocks you leave might impact the environment, check with your local authorities first.) Thanks to a suggestion by her daughter, Murphy encourages people to write #thekindnessrocksproject on the back of their rocks and check in on social media. This allows her to geo-tag all of the places where the project has spread and share stories and photos of the rocks.
Thus far, people have left Kindness Rocks all over the country, including Hawaii. The project has even spread to Canada, Australia, New Zealand, Germany, Ireland, Thailand, Haiti, Italy, and England.
For the first year, Murphy hid her identity as the woman who was leaving inspirational rocks all over Cape Cod for others to find. "At five o-clock in the morning — so I wouldn't get caught — I would run to these places and restock the gardens." she recalls.
Murphy says although The Kindness Rocks Project has become almost a full-time job for her, the project brings in no money, only good feelings. She responds to every message the project receives personally. "I feel like that's my job to be the human on the other end," she explains. Many of the messages come from people who found their rock during an emotionally difficult time. Murphy hopes her training as a life coach puts her in a unique position to respond to these messages in a way that is helpful to the person on the other end.
Although she's been working on the project for over two years now, Murphy says the project would not exist without others. "I was just the seed that planted this idea," she says. "If I tried to create this I never would have been able to do this." It's the power of people's collective desire to do something nice for a stranger that makes The Kindness Rocks Project so unique.
"This is not me," she says. "The more you can share other people's work, the more people are effected and are a part of something bigger. It's amazing."
This article was originally published on