The Mormon Church Is Cutting Ties With The Boy Scouts Of America
by Christina Marfice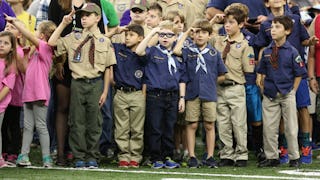 The internet has its own theories about why the Mormon Church is ending its 100-year partnership with the Boy Scouts of America
It's been a big few years of changes for the Boy Scouts of America (BSA). The organization just announced in 2014 that it would allow gay members to join its ranks. The ban on gay leaders remained until 2015. It was just last year that, thanks to a legal complaint from an 8-year-old trans boy, the BSA announced it would accept boys based on their own gender identities. In October, the organization further signaled that segregating by gender is an outdated concept, and announced that girls would be allowed to join. And just last week, in light of girls being welcomed to join, the BSA announced that in February of 2019, it will change its name to Scouts BSA to reflect its new inclusive policies.
And today, the Mormon Church announced its plans to cut all ties with the BSA.
The Mormon Church has partnered closely the the Boy Scouts for over 100 years, and been its biggest sponsor of troops in the U.S. for nearly as long, according to CBS. There are currently 425,000 LDS boys who are in Scouts. Beginning December 31, 2019, all LDS boys will be removed from Boy Scouts and placed in a "uniform youth leadership and development program" that's being developed by the Mormon Church.
The church is citing its desire to create its own religious equivalent to the BSA as its reason for ending its relationship with the organization.
"For years, Church leaders have been preparing a new initiative to teach and provide leadership and development opportunities to all children and youth, to support families and to strengthen youth everywhere as they develop faith in the Lord and Savior, Jesus Christ," a statement released by the Mormon Church reads. "This new approach is intended to help all girls and boys, young women and young men discover their eternal identity, build character and resilience, develop life skills and fulfill their divine roles as daughters and sons of God."
But many people on Twitter think the timing of this announcement, so close to the decision to allow girls to join and the name change, is a little too coincidental.
Regardless of the reason for the move, this is a huge blow to the BSA.
Without its largest U.S. sponsor of troops, the Scouts may face an uphill battle to maintain the numbers they've seen in the past. But opening its doors to all children, no matter where they fall on the gender spectrum, can only help.