'The Office' Is Leaving Netflix And Everyone's Losing Their Chill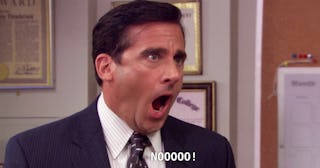 NBC/NETFLIX
The Office is leaving Netflix at the end of 2020
We hate to be the bearers of bad news, but somebody has to tell you… The Office is leaving Netflix. We know. We are basically grieving right now too. Despite being the most popular show on Netflix (yes, really), Netflix tweeted out that the iconic NBC series is leaving the platform — and everyone on the internet is devastated.
"We're sad that NBC has decided to take The Office back for its own streaming platform," Netflix tweeted on June 25, 2019. "But members can binge watch the show to their hearts' content ad-free on Netflix until January 2021."
NBC Universal is launching their own streaming platform and naturally, they'd want exclusive rights to air their show (apparently, NBC Universal paid $500 million to get the show back). Industry mumbo-jumbo aside, this is annoying for us — the viewers — for two reasons: 1) How many streaming platforms do we have to sign up for now to get all the content we want and deserve in our lives? and 2) What will we put on in the background when we fold laundry if The Office isn't streamable on Netflix anymore?
The good news is that The Office is still available to stream on Netflix until the end of 2020, which is more than enough time to binge the whole entire series for the first time or the fifth time, who are we to judge. This show is a national treasure and no amount of watching it will ever be enough, TBH.
Currently, the internet has absolutely no chill regarding The Office news and Twitter looks a lot like this right now:
In no particular order, here's how the majority of the internet is reacting to the news.
https://twitter.com/jetpack/status/1143666491243585538
A lot of people are also just appalled at the number of streaming services they have to sign up for now.
https://twitter.com/jetpack/status/1143643892140531713
Speaking of multiple streaming services, The Office isn't the only show leaving Netflix. When Disney+ launches, you won't be able to watch Disney movies (that includes Star Wars and some Marvel content) on Netflix either, and Netflix might also lose Friends to Time Warner's streaming platform. Our binge-watching lives are falling apart, y'all.
However, there is one bright spot amid all this complicated streaming news.
Steve Carrell and The Office creator Greg Daniels have teamed up with Netflix on a new workplace comedy called Space Force. Very little is known about the show and it's unclear when it will premiere, but we're guessing it might (almost) fill that Dunder Mifflin-shaped hole in your heart. Now, time to let one episode of The Office after another play over and over on every TV in our homes until the end of 2020.