17 Must-Haves For Anyone Obsessed With 'The Office'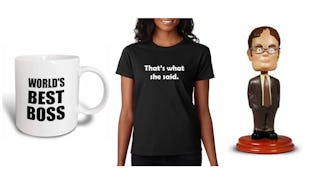 Images via Walmart
The Office premiered in 2005 and it's STILL one of the most popular TV series that we love to rebinge on Netflix.
What's not to love? Fans of The Office love to watch it again and again, and know most of the quotes, because we know it's guaranteed to make us laugh.
We root for Jim and Pam all over again. We still find the pranks hilarious. We cringe just about every time Michael opens his mouth.
Here are some awesome gift ideas for anyone in your life who happens to love this show:
This Whiskey Glass includes a "'That's What' -She" inscription, and most importantly, it combines my two favorite things: The Office and whiskey.
A Dunder Mifflin Hoodie will explain all the quotes you use from this show, and it's super comfy.
Or there's this adorable Dunder Mifflin Onesie for any future Office fans.
A Schrute Family Portrait Print featuring Dwight and Mose makes me laugh every time I look at it.
This Assistant Regional Manager Tank has the "to the" written on the side, which every Office lover will appreciate.
Or if you'd prefer your own Dundie Award, this one for Assistant To The Regional Manager is perfect.
A World's Best Boss Mug is a great gift to buy for yourself, or for any self-proclaimed awesome bosses.
This George Foreman Grill is another great gift for the Michael Scotts in your life, for obvious reasons.
This "That's What She Said" Shirt is the perfect gift for anyone who loves this catchphrase almost as much as they love the show.
A Dwight Bobble Head, just like the one that Angela got for Dwight, is the perfect accessory for any desk. (It also comes in the Michael Scott version.)
This Dwight Pillow has one of my favorite Michael quotes: "Dwight, you ignorant slut." And I'm personally buying one for all of my friends.
This Bears, Beets Tee is ideal for Dwight fans, because it includes all of his favorite things (not including Michael).
This pop-art Dwight Schrute Coloring Book has a ton of funny Dwight quotes to color, to help you relieve even more stress.
Pam's Office Painting Print will make any Office fan re-live their love for Pam Beesly.
This Jim and Pam Pillow says "You're the Jim to my Pam" and it's a great gift for anyone you love.
The Office: Complete Series, the DVD set that includes every season, is a must-own for any fan.
This Michael Scott Motivational Print is a best seller at Amazon for good reason: it's freaking hilarious.
As you can see, there are tons of gifts for your friends who love The Office. And seriously, if you have friends who don't think "That's what she said" or other jokes from this show are funny, then ditch those friends. You don't need that kind of negativity in your life.
We may earn fees from purchases made via links on this page and affiliated sites. All opinions are our own.
This article was originally published on