The Only 5 Beauty Products You Need to Look Flawless During a Heat Wave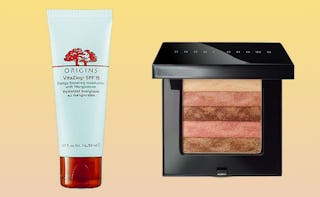 There are few things more revolting than a faceful of makeup melting off in the blazing sun, which is why I'm inclined to wear as few beauty products as I can get away with and still feel presentable in the summer months. I do, however, have a few secret weapons that help me—and might help you—look a little less splotchy and sweaty. You probably look fine without any makeup at all, but if you are inclined to wear a tiny bit, these products won't run down your face in rivulets or give you any gross streakiness or clog your pores (at least they don't for me).
1. Origins VitaZing
Do you find the prospect of wearing any kind of base or foundation insane when it's hot? Do you wish there were something that would make your skin a little more even without the risk of looking like you have a moist mask on? Oh man, then you are ready for Origins VitaZing. You're not going to believe this stuff: First of all, it's got SPF 15 in it, so in the event you don't have time to put on your heavy duty sunscreen (thinner-than-water La Roche-Posay Anthelios 60 is worth every blessed penny), this moisturizer has you covered. The thing is it doesn't just moisturize; even though it comes out of the tube as a white cream, it has some kind of invisible magic crystals that give your skin a subtle glow. It's like the very lightest tinted moisturizer on earth, and it makes you look dewy and even-skinned and gorgeous. (I don't know if you pronounce it "vita-zing" or "vi-TAY-zing" but I really hope it's the former.)
2. Anastasia Beverly Hills Brow Gel
I raved about the tinted version of this the last time I talked about makeup, and I stand by it, but I also stand by the conviction that you don't want a tinted brow gel in the summer—you don't want anything that risks turning you the slightest bit Tammy Faye, so go for the colorless variety for summer. This isn't going to magically turn you into Cara Delevingne, but it is going to keep your brows in place. You know how when you're really hot the perspiration comes down from your hairline and starts to use your eyebrows as a sweatband? Well nothing can stop that but an actual sweatband, but this brow gel is going to make sure your brows at least stay in place and you don't look like Sam Waterston.
3. Lancôme Waterproof Définicils Mascara
I hate waterproof mascara, so I tend to not wear any in the summer and tell myself that it's okay that all my winking will be undramatic and my come-hither glances might be overlooked, I'll flirt madly after the first frost. But if I do wear mascara in the summer, it has got to be waterproof, and if I'm going to wear waterproof mascara, which is going to take the jaws of life to remove, I am going to wear the best one, which is definitely Définicils. I can't wear their non-waterproof mascara without getting it all over my face like I've been working in the mines, but the waterproof kind is unmovable, and it will make you look like you got an eyelash perm, something I hope you never do but I understand if you do. You can sweet-talk your dermatologist into prescribing Latisse, too—no judgment.
4. Bobbi Brown Shimmer Brick
No one blushes when they have a tan. It's impossible, I think. But they do shimmer. Okay, maybe they don't, but they want desperately to shimmer. Bobbi Brown Shimmer Bricks are exactly what you want to put on top of your VitaZing to make you look like you've just flown in from St. Barts and you always wear this floppy hat. It's not blush, exactly, but you can apply it like blush to your cheeks and any other place the sun would hit, like your brow bones and the bridge of your nose, and it will give you, as is accurately promised on the Bobbi Brown website, "soft-focus, lit-from-within color with a flattering combination of pale, golden and rosy pinks." "Soft-focus" and "lit-from-within" are the two things I've been dying to be for my entire life—admit that you're at least a little bit intrigued.
5. Peter Thomas Roth Instant Mineral SPF 45
I hate it when I put on sunscreen and then I'm all oily, or I put on my very light makeup as I've discussed above and then I want to reapply sunscreen as you're supposed to, but what am I going to do, wash my face? Apply sunscreen over my makeup like an animal? No, I'm going to brush on Peter Thomas Roth Instant Mineral sunscreen that has a fun little brush contraption applicator and does double-duty as a sweat-absorber throughout the day. You can put it anywhere—over or under moisturizer or makeup, on your décolletage so you don't get what I recently heard referred to as "cougar chest," on your hands because you're driving or sitting outside and you just realized, oh my God, my hands look like an old Gucci bag.
Now all you need is some SPF-packed lip balm, and you are going to look amazing even though you feel like you're going to boil off into vapor!
Want more beauty recommendations? Here are The 10 Best Beauty Products on Earth (For Real).
This article was originally published on