Anne Hathaway Says 'The Princess Diaries 3' Is Officially In The Works
by Thea Glassman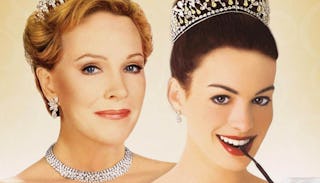 Image via IMDB/Walt Disney
Anne Hathaway revealed that The Princess Diaries 3 is in the works and life just got so much better
Alright, everybody, hold on to your tiaras. Anne Hathaway said that there's a script for The Princess Diaries 3 and both her and Julie Andrews want to make it happen. Honestly, all we can say to that is SHUT UP. We need more Mia Thermopolis in our lives, and we need her STAT.
This very important scoop was revealed on Watch What Happens Live, when someone called in and asked about a third movie in the series. "There is a script for the third movie. There is a script," Hathaway said. "I want to do it. Julie wants to do it. Debra Martin Chase, our producer, wants to do it. We all really want it to happen."
Cue us squealing from now until this movie comes out.
Does this news make you want to slide down a firehouse pole, give Fat Louie a scratch, and then scoot off to school with Lily Moscovitz? Yup, me too.
Hathaway added that she doesn't want to officially get started until she's sure that they're delivering the best film possible for fans (You hear THAT Sex and the City 2?!)
"It's just we don't want to unless it's perfect because we love it just as much as you guys love it," she said. "It's as important to us as it is to you, and we don't want to deliver anything until it's ready, but we're working on it."
Not trying to be too dramatic here, but if Michael Moscovitz doesn't make an appearance in this upcoming movie I will scream. Also demanding a return of Mandy Moore, AKA, Lana Thomas. The actress has already said that she'd be open to making an appearance if the next film is made.
"If I'm going to be involved, I would be down for a cameo — maybe she could make amends with Mia and apologize for being a bully when she was younger," Moore told ELLE in a 2017 interview. "She was insecure, going through a difficult time in her life and [has now] reflected on why that wasn't okay."
Maybe the whole "Lana got coned" thing also helped mellow her out…
Back in 2016, Gary Marshall, who directed both Princess Diaries films, told PEOPLE that there was something exciting brewing in Genovia.
"I was with Anne Hathaway a couple weeks ago, it looks like we want to do Princess Diaries 3 in Manhattan," he said. "Anne Hathaway is very pregnant, so we have to wait until she has the baby and then I think we're going to do it."
Sadly, Marshall passed away later that year, and Andrews told Buzzfeed News that they might do the film in honor of him. "Annie had an idea that she wanted to pursue about it, and I'm all for it, so if she'd like to…." she said.
Well, there you have it. Here's hoping we get the third movie really, really soon. But if there are some production delays just remember…the Queen is never late, everyone is simply early.
This article was originally published on