The Rock Shares Sweet Message For His Oldest Daughter's Birthday
by Sarah Bregel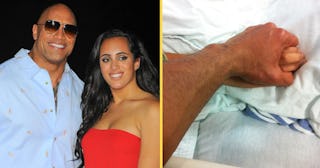 Sergi Alexander/Getty and The Rock/Instagram
The Rock's sweet message to his daughter on her 18th birthday will make you swoon
Dwayne "The Rock" Johnson just wished his oldest daughter, Simone, a very happy 18th birthday in a beautiful post on Instagram. It is heartfelt. And swoon-worthy. And… cue the tears.
"Happy 18th birthday to my #1 first born daughter, SGJ," he began his post, alongside five pictures of him and his daughter, as well as other family members.
Johnson is known for being a wrestler and action film actor and, ya know, a hot hunk of man-meat. But in his role as a family man, he's kind a big old softie. If you're asking us, it's pretty much the best of both worlds.
While The Rock has happily gushed over his family on social media in the past, this post pretty much takes the (birthday) cake.
The first image in a series of five was a picture of him holding his daughter's hand when she was a child recovering from surgery. "Just me and you alone in the room, kid. I knew then you've never have a recollection of this moment, but I wanted to take this image for what I felt then and what I feel now it represents," he writes.
Can we get a tissue please? Or maybe cold shower. Maybe both.
He goes on to say, "As you go out and tackle this big ol' world with your dreams, ambitions and hard work, the love you're able to see daily will always guide you."
Seriously. It's too cute.
Also, who knew The Rock was a words guy?
Either way, he clearly loves being a dad to his girls, which is great since he has three. But he has no qualms about getting a little emo about it, either. It's really beautiful to see a guy who is known for being hard-as-nails (I mean, his name is THE ROCK, after all) not be afraid to let his vulnerable-side show.
But it seems like the family is very close, too. Simone has spoken about what it was like to grow up with "strong role-models." We have a guess who she may be talking about. She's also killing it as a model and was a Golden Globe ambassador.
She's clearly just as ambitious as her dad but it looks like she might have a soft side, too.
https://www.instagram.com/p/B0R4CnwAs_7/
Of course, Instagram viewers were brimming with their own sweet words after reading the message.
We totally agree.
The Rock may have earned his People Magazine "Sexiest Man Alive" title back in 2016, but truth be told, he just keeps getting better and better. Fatherhood certainly seems to suit him.
And somehow it just makes him sexier.
This article was originally published on