All The Times The Rock Was Feminist AF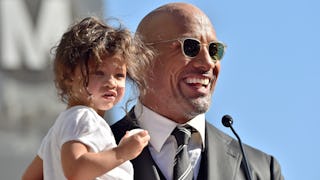 Axelle/Bauer-Griffin/FilmMagic/Getty Images
The Rock's Women's Equality Day Instagram post was amazing, and it's not the first time he's shown his feminism
Dwayne Johnson has been a star athlete, a professional wrestler, and an action movie star. But even as buff and macho as The Rock's career has looked, he's gone out of his way to show that he believes in women's rights, gender equality, and feminism.
His views couldn't have been clearer than they were yesterday, when the star took to Instagram on #WomensEqualityDay to share a picture of him and his daughter, Jasmine, as well as a few inspiring words for her, his other two daughters, and — really — little girls everywhere.
"She can be anything she wants," he posted. "She can sit at any table. She can trailblaze a path, while humbly and gratefully recognizing those before her who paved the way. She and her big sister, Simone and her baby sister, Tiana Gia will always have a strong voice and always make a positive impact. She can also just forcefully shove a buttery, delicious croissant in daddy's mouth when daddy is on a very strict diet."
Johnson's oldest daughter, Simone, is 17, while Jasmine is 3 and his youngest, Tiana Gia, was born in April.
This is far from the first time that Johnson has shown his love for his daughters along with his fierce feminist views. In a post in last year, he outlined his goals for his middle daughter, which include teaching her a firm handshake, fishing, driving a pickup, doing cardio, and project management skills.
"There are mornings in life where there are no words," he wrote. "This is not one of those mornings. Jazzy, let daddy tell you his goals. By 5, you'll be looking people in the eye when you firmly shake their hand. By 8, you'll know how to fish, drive daddy's pick up truck and do cardio. And by 10, you'll be able to directly say to people, 'Great job, I like it a lot, but let's see how we can make it better'. Helluva plan right sweetheart? Buh! *she points to the ground at a bug. It was a good talk."
But — you may be wondering — is he also totally supportive of breastfeeding mothers? Yes he is. In June, after the birth of his youngest, he shared a picture of himself feeding his partner, Lauren Hashian, so that she could nurse baby Tia.
And he's been this way for years. Way back in the summer of 2016, when Jasmine was just a baby, Johnson was not only all about doing his part when it came to raising his daughters, he didn't mind sharing pictures of it with the world to show that things like diaper changes are totally the part of a man's job as a parent (even when you seem to be riding on a private jet).
"Regardless of where we're at," he wrote, "when #2 happens with my baby girl.. I'm the #1 man for the job."
He was also sure to revel in the fact that he was going to end up in a family full of strong, amazing women back when he let Jasmine announce that she was getting a baby sister.
It seems like he's the number one man for a lot of different jobs, and we can't get enough of him and his feminist ways, on screen or off.
This article was originally published on