The Rock Gushes Over His Daughters In Latest Instagram Post
by Cassandra Stone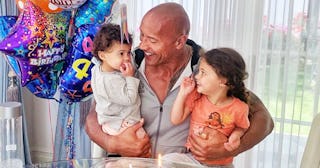 The Rock via Instagram
The Rock is just the BEST DAD to his girls
If there is a better dad to his daughters than The Rock, we've yet to see it. He is hands-down one of the most openly loving, genuine, proud, supportive dads on the planet. Sometimes it's impossible not to think how much better the world would be if we all had a dad like The Rock. Take his latest Instagram post, for instance.
He has three daughters, Simone, Tiana, and Jasmine — the younger two helped their dad ring in his birthday in the sweetest possible way. (Also please note the Moana shirt on Jasmine. DYING.)
https://www.instagram.com/therock/p/BxKqN_rn64_/
"My lil' queens, Tia & Jazzy made my birthday," he writes in the caption. "Good reminder for me of what's really important in life and why I work the way I do." He gives a shout-out to his oldest, Simone, and goes on to gush some more about his girls.
"These two baked me an apple cake with sprinkles and three candles for the amount of hours I'm going to sleep in 2019. #gratefulSOB #RaiseMyGirlsStrong #DaddysGottaGoToWork."
This is hardly the first time The Rock has shown the world just how proud he is to be the best dad to his girls. Remember when he decided that showing up to work slightly late was totally worth it, because his daughter wanted to paint his nails?
Because when your adorable little girl tells you she wants to give you a manicure — you drop literally everything you're doing and let that little angel give you a damn manicure.
He's a full-on feminist dad, and pretty much all men could learn a thing or two from him. On Women's Equality Day, he made sure his girls know they can do anything they want to do.
"She can be anything she wants. She can sit at any table. She can trailblaze a path, while humbly and gratefully recognizing those before her who paved the way," he said. "She and her big sister, Simone and her baby sister, Tiana Gia will always have a strong voice and always make a positive impact."
There are a lot of great dads out there, sure. My own dad imparted a lot of feminist wisdom on myself and my sister, and those lessons and that kind of unwavering belief in your kids can have such a huge impact.
But my dad is not The Rock. So…yeah.
I MEAN. Whew. This man loves his girls and their mama something fierce. So it's no wonder why in my next life, I'd like to come back as one of The Rock's daughters. We all stan a man who stans every single girl in his world.
This article was originally published on