The Rock Shares Heartbreaking Post About Suicide Prevention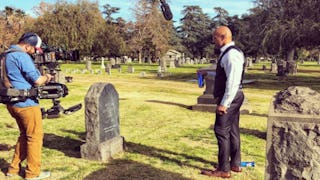 Image via Instagram/The Rock
The Rock posted a gut-wrenching story about his mom
Dwayne "The Rock" Johnson took to Instagram to share a deeply personal story about his family. The actor posted a picture of himself filming a scene in a cemetery for his television series Ballers, and opened up about his mother's suicide attempt back when he was 15. His memory is heartbreaking, and his plea for mental health awareness is a truly important one.
Johnson began by acknowledging that many of us have been affected by suicide. The actor — whose character's brother died by suicide — understands the "struggle and pain." His own story happened when he was a teen, riding in the car with his mom.
"She got outta the car on Interstate 65 in Nashville and walked into oncoming traffic," he wrote. "Big rigs and cars swerving out of the way not to hit her. I grabbed her and pulled her back on the gravel shoulder of the road."
The actor added that his mom has no memory of the traumatic incident.
Johnson went on to say that filming the scene in a cemetery was painful — especially since his character's story arc closely resembled his own real life experience — but says it was a necessary reminder that we need to do our very best to help people who are hurting.
"Help 'em through it, get 'em talkin' about the struggle and remind 'em that they're not alone," he wrote. "We got lucky that day when I was 15 and that ain't always the case."
This is such an important reminder for all of us. It's so easy to get wrapped up in life, and forget to really, truly pay attention to those we love around us. The bright light of this whole story is that Johnson's mom is doing just fine now. In 2015, the actor posted a picture of his mom crying happy tears on Mother's Day.
"This is the woman who, when I was 14 yrs old, we were evicted out of our apartment in Hawaii 'cause we couldn't afford the $180 per week rent. At this moment I'm shaking my head and smiling quietly (as my mom blows her nose) 'cause she just told me she's happy," the actor wrote. "And y'all know when our parents tell us they're happy, its so satisfying for us, 'cause it means we've done a good job for them as their kids."
Lots of love to Johnson for being forever a lovely, positive beacon of light.
This article was originally published on