The Rock Surprises His Cousin And Melts Every Heart In The World
by Julie Scagell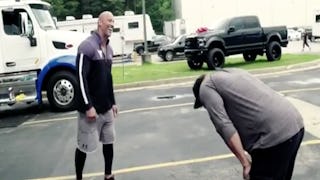 Image via Instagram/Dwayne Johnson
His cousin broke down in tears over the sweet gesture
If there is a person on the planet who doesn't already adore Dwayne "The Rock" Johnson, they need to immediately watch this video because their mind's about to be changed. The actor and former WWE star decided to pull off a big surprise for his stunt double (who happens to be his cousin) and the video of the sweet moment will give you all the feels.
"I love you brother and enjoy your new truck," Johnson posted on Instagram next to a video showing him pulling off the big reveal. "Over the course of my career, my stunt double (and cousin) Tanoai Reed @samoanstuntman has broken multiple bones, severed tendons, torn ligaments & just been an overall dominating bad ass achieving several Stuntman of the Year' honors," he writes.
The video shows Johnson pretending to be interviewed with Reed, all while the truck gets into place and another truck pulls away to reveal the sweet ride. "As you'll see the moment I put my hands on my hips, that's the drivers cue to pull away and reveal the big surprise," he wrote. Johnson said he had the truck custom made for Reed, who's recovering from a stunt injury.
But the best part of the entire video is Reed's reaction, breaking down in tears and hugging Johnson while still not fully comprehending that he just got gifted a brand new truck. There's nothing quite like watching two hunks of muscle cry happy tears to make you break down yourself.
Johnson, known as the busiest man in Hollywood, is always making time for others when he's not making blockbuster movies or taking care of his adorable family. When a girl invited him to her prom a few months back, he not only made her a video thanking her but talked over the loud speaker at her school to let her know "I appreciate how cool and awesome you are for inviting me to your prom." He then sent the teen and a bunch of her pals to a private showing of his latest movie complete with all the junk food they could eat. I mean, who does that?! The Rock, that's who.
"Not only does Tanoai represent our family and my career with relentless commitment and passion. He also represents an entire Hollywood stunt community that is truly the backbone of our business. Love you uso and thank you for the blood, sweat, tears and years," Johnson wrote. Seriously, can we get a little more Rock in our lives?
Be still our hearts.