The Rock Surprises 'Tonight Show' Staffer With Military Husband's Homecoming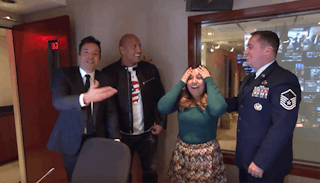 Image via Facebook.
The couple met while deployed in Iraq and have been apart for 18 months
In addition to being the Sexiest Man Alive, Dwayne The Rock Johnson is apparently a master at throwing emotional surprises. He arranged a homecoming for a military couple on The Tonight Show with Jimmy Fallon that will leave you in tears.
The Rock, alongside Fallon, pulled off the reunion for a very special member of the show's team – producer Karina Kabalan, an army veteran. Her husband is a master sergeant in the U.S. Air Force and has been away from home for 18 months. The pair met while deployed in Iraq. Johnson, who is known for his support of military members and veterans, told Fallon on the show: "I think if we ever have the opportunity to give back to our troops, I think we all should, because we live and enjoy the life we have because of them."
"I would love to give back to a military family that's actually here in the audience," the Rock said. So he and Fallon walked through the studio audience pretending to be looking for that particular person that was in for a monumental surprise. The Rock eventually leads Fallon back to the control room, which is where the show's staff sits during the broadcast. When it is clear the surprise was for her, Kabalan exclaimed: "What is happening right now?"
As The Rock talked to Kabalan her husband snuck up behind her. "Turn around and hug your husband," Johnson said.
Fallon broke down, and who could blame him?
"Feeling overwhelming loved and appreciated by the Fallon Family! I don't know if I'll ever get over the shock," the army veteran wrote on Instagram with the photo of her and her husband above. "Thank you @jimmyfallon @therock and @fallontonight and the other handful of people who played a part in this scheme! And the academy award for best performance….goes to the Tonight Show Control Room! I was so duped!"
All together now: Awwww!