New Kids' Fairy Tale Features A Prince Who Turns Into A Princess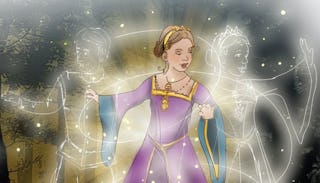 There are some people in the world who get left out of "happily ever after," but one creative author is working to change that by penning the first-ever transgender fairy tale.
Author Greg McGoon is working on a series of classically-styled fairy tale books that will feature the stories of lesbian, gay, bisexual, and transgender characters. The first book in the series, The Royal Heart, was recently released, and already it's breaking barriers. The book is about a prince named Lyric who transforms herself into a princess on her 16th birthday, finally taking the form of her authentic self.
According to a synopsis of the book on Refinery29, Lyric is destined to become king, but doesn't feel like a male king, and is worried he won't live up to his family's expectations. Lyric runs away and meets the spirit of his grandmother, who helps Lyric transition into the princess she knows she is. In her true form, Lyric is accepted by the people she loves and knows she can be a great leader.
In a recent interview with the Huffington Post, McGoon explained his motivations for writing the story and said he hopes people see it just like they would any other fairy tale. "I wrote a story about love, acceptance and leadership," he says. "It just so happens that it features a transgender character. It's never too early to teach children about acceptance."
This is not McGoon's first book, but he says he was inspired to write stories featuring LGBT characters because "I want everyone to feel like they can have their own 'Once upon a time.'" He also says the most important part of the story, to him, is that Lyric finds love and acceptance. He tells the Huffington Post, "That is where the true magic lives — 'we love you.' How incredible that any person would be able to share themselves with the people they love and hear 'We love you. We are proud of you.'"
The Royal Heart is an important book, not only because it inspires greater representation of diverse characters in kids' books, but also because of the straight forward and loving way it presents the transgender experience. According to Times Union, there are about 700,000 transgender individuals living in the U.S. Chances are kids will know transgender people in their lives, and may identify as transgender themselves. It's important to have conversations and give them the tools to understand different life experiences.
Books are a great way to get that conversation started, and to show kids that everyone has a story worth hearing.
This article was originally published on