The Scary Mommy Mother's Day Gift Guide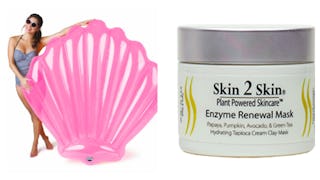 LEFT: ALWAYSFITS.COM/ RIGHT: SKIN2SKINCARE.COM
Mother's Day is almost here and while most of us are just happy to be left alone for a few hours to nap, read, or take a bath, it's always nice to have a little something special. Whether you are treating yourself, or need to drop a hint you'd like to have a little gift to be recognized for all that you do (I'll take two please), Scary Mommy has collected a list of our favorite, mom-worthy presents.
Made From Earth has created a skin care line with anti-aging properties using organic plant stem cells. They have products for the face and body so you can have peace of mind knowing what you put on your skin is healthy while smelling their delicious scents like grapefruit, lavender, or honey.
From makeup to skin care to self tanners, The Choosy Chick is your place to go for products that are effective, yet safe, and don't contain many of the ingredients found in many cosmetics and skin care products you might find at the drugstore.
These are not your ordinary leggings, folks! They shape and lift. As a woman who has had three kids and watched my ass drop over the years, I can honestly tell you this is the only pair of leggings I feel safe wearing without a dress or skirt. It doesn't matter if I show a little cheek underneath my T-shirt hem because these babies lift and shape those buns. They stay in place, don't pill, and I love how they suck me in without the uncomfortable feeling that often comes with being lifted and shaped.
This is my new favorite line of skin care. Their enzyme renewal mask leaves my face feeling like a newborn's bum. It doesn't feel dry or feel tight on your face like some other products, and my skin is visibly plumped up after just one use. Skin 2 Skin products are plant-powered made with all natural ingredients to keep your skin looking its best.
Tired of losing your damn keys all the time? Yeah, me too. The keysmart pro will quickly become your best friend and you'll wonder how on earth you ever survived without it. It holds up to 10 keys, and makes your keys ring if you can't find them. It will also locate them for you on a map in the free tile app. I can't live without mine now.
Let me paint a little picture for you: It's almost that time of the month and your cravings are out of control. Just as soon as you feel yourself going to buy a bag of Fritos and M&M's, tasty, satisfying, yet healthy homemade treats arrive at your door step. Moon cycle makes things with ingredients like matcha, coconut, and all natural sweeteners like honey. And the best part? They taste like the unhealthy version. This is my #1 pick for Mother's Day, it will almost make you look forward to your period every month.
These shoes come in a variety of colors and are comfortable while leaving your feet feeling fresh all day as you run around accomplishing all the things mothers tackle in a 24-hour period. They have the look of a cute little flat, with all the comfort you get from an athletic shoe. They are ultra lightweight and People magazine says you will "feel like you are walking on a cloud." Yes, please.
We all love and need as many tote bags as possible. We love this durable "feminist" bag, which is perfect for carrying around al those snacks, a good book, blanket, and drinks for your tribe this summer.
Whether you are heading to the neighborhood pool or planning a lakeside vacation, these floats are super fun and designated for moms only. They are big enough to sprawl out. So ditch the kids, and relax.
There you have it: Scary Mommy's top picks for this Mother's Day. No matter how you celebrate, we wish you lots of relaxation and pampering, even if you have to make it happen your damn self.