'The Sleepover' Is The Family Movie You Need RN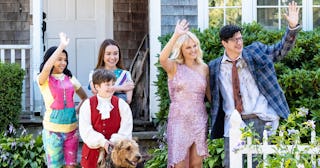 Netflix
Need something new to watch with your family on movie night? Say hello to The Sleepover
If there are two things we know about 2020, it's that (a) it needs to be over stat, and (b) only copious amounts of feel-good binge-watching will get us through what remains of this hellish year. Fortunately, streaming services have stepped up their game during the coronavirus pandemic — and that now includes Netflix's new family film, The Sleepover.
Yes, we're going to give you a full rundown on why this kidnapping caper is worth streaming. But, for starters, let us just say that Joe Manganiello stars. For some of us, that's reason enough to watch.
Even if you haven't been harboring fantasies about climbing Manganiello like a tree, though, there are plenty of other reasons to give The Sleepover a chance. At this point in the pandemic, we're all looking for ways to while away time that aren't so… depressing. Because let's be real, the constant barrage of bleak headlines is taking its toll on everyone's mental health.
Our kids are feeling pandemic fatigue, too. This feels especially true since school started back. So, what we could all use right now is more time together. Laughing. Snuggling. Forgetting about the bad stuff. And The Sleepover is exactly the kind of movie that helps you do that.
Here's the gist.
Siblings Clancy (Sadie Stanley) and her little bro Kevin (Maxwell Simkins) basically think their parents, Margot (Malin Akerman) and Ron (Ken Marino), are super boring in the classic parental way. But when Margot and Ron are kidnapped, Clancy and Kevin — along with pals Mim (Cree Cicchino) and Lewis (Lucas Jaye) — learn their mom is anything but dull. In fact, she used to be a master thief and must pull off one more major heist with her ex Leo (enter, Manganiello) if she and Ron hope to survive.
Is it basic? Sure, but in the absolute best sense of the word.
It's essentially what you might expect if a Hallmark movie and Spy Kids met, fell in love, and made a movie baby. Your tweens (and even teens) are going to LOL at the campy one-liners and dig the double-life twist. You'll enjoy the escapism, not to mention 1 hour and 40 minutes of Manganiello. Plus, per the norm, Marino is comedic perfection.
So, if you're a fan of glossy family comedies, you've just found your next movie night headliner. Bonus: The Sleepover is available to stream right now on Netflix.
This article was originally published on