Mom Shares Grief After 3-Year-Old Dies From Choking On Bouncy Ball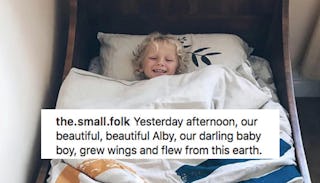 Image via Instagram/The Small Folk
The little boy choked on a bouncy ball favor from his birthday party
Ask any parent — concern over our children's well-being begins before they even enter this world and it never, ever stops. If something happens to a child, god forbid, the experience would be simply unimaginable.
One mom is sharing her tragic story to pay homage to her son and remind parents just how fragile life really is.
Mom of three, Anna Davis, runs a popular Instagram page called The Small Folk, which often features her three children, Sage Mila Wren, Alby Fox, Acre Roo. She runs an "enchanting, holistic play store, celebrating a naturally simplified childhood," all while being a busy mom who is currently pregnant with her fourth child.
As she was preparing for her son Alby's fourth birthday party the little boy choked on a bouncy ball meant to be included in his party favors. The popular toy had been delivered earlier in the day. According to reports, the ball became stuck in his windpipe and he suffocated, despite his mom attempts to save his life. He died in her arms.
"'I can't wait to go to bed tonight Mum!' Our precious boy, with his brand new doona cover, 2.49pm on Monday afternoon… exactly 40 minutes before he took his final earthside breath in my arms," Davis wrote. "No words could ever express the depths of our gratitude for the outpouring of love we have received since our worst nightmare became our daily reality."
https://www.instagram.com/p/BfsL7FvDgzV/?taken-by=the.small.folk
According to the Department of Health, at least one child dies from choking on food every five days in the U.S. and children under five are at greatest risk for injury or death.
As the manner of Alby's death has gone public, of course some have assumed the worst, which the family has unfortunately had to contend with in their time of grief. Any any parent knows, life can change in an instant. "The heart ache we are already experiencing is indescribable, and to know there are ill-informed stories and subsequent false accusations circulating, initiated by some incredibly heartless people at this time, only exacerbates our pain," Davis wrote.
She goes on to explain, "Of course tried to save our beautiful boy (including, but not only, undertaking CPR for 16 excruciating minutes until paramedics arrived), I was three feet away from Alby when the incident occurred and was by his side within seconds, the ball was larger than the 50c piece/film canister size-recommendation for toys given to young children."
A GoFundMe page has been set up to help the family during this unimaginable time. "In this time of unfathomable grief, this beautiful family needs time to mourn and surround each other in love, without having the financial burdens of daily life and work commitments weighing on their minds," the website said. "As Simon is a relief teacher, he's not entitled to any leave and as so many of you know, Anna is self-employed with her much-loved business, The Small Folk. Let us come together to offer our support in any amount we can."
This is a parent's worst nightmare and a tragic accident, full stop. They lost their sweet boy and will forever be incomplete. Sharing their story is not only brave, it must be extremely heartbreaking to let people in while they are grieving to let other know about the danger of a toy so common.
"During this time of immense grief, your thoughts, prayers, sympathy and tears have enveloped and uplifted us, and we could never thank you enough for your overwhelming generosity and support," Davis wrote.
"Sweet Alby, forever three, forever free."
This article was originally published on