The Thanksgiving Project Update
by Scary Mommy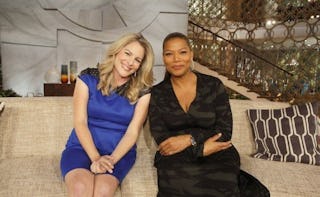 A reporter recently asked me about my fundraising goal for the 2013 Thanksgiving Project. I struggled to come up with an answer for her; I mean, the answer is that I want to be able to feed everyone who applied, but I've never really had a number in my head. Had I, it wouldn't have been close to what we raised in the last 20 days…
$134,178.77.
I have trouble even wrapping my head around that number.
$134,178.77 means that 2,444 struggling families will be able to have a Thanksgiving dinner this year. For one day, their stress and worry has been lifted and they can enjoy time celebrating with the ones they love most. Two thousand, four hundred and forty four families. Thanks to you.
Applications are now closed, so that we can begin the task of shipping out the cards in time for pre-holiday arrival. Unfortunately, there are still 319 families on the waiting list. That means to be able to feed everyone who applied, we need to raise $17,545 more. Maybe I'm delusional, but I think we can do it. I mean, look what we've done already.
So, this is crunch time. Only a few more days to annoy people on Facebook or send out mass e-mails or harass your boss. We're so close. Can't you almost taste it?
I am no mathematician, a fact I am constantly reminded of when I'm unable to properly assist my young children with their math homework. I was also reminded of it last week when I calculated just how much PayPal takes out of each donation in fees, along with the cost of shipping out all of the gift cards.
Yikes.
I feel very strongly that every penny we raise goes towards feeding the families in need, but the other expenses are adding up so much faster than I could have foreseen. A few wonderful companies have stepped up to help cover the cost, and their buttons are featured on the sidebar. Please click over and take a look around their sites; there are kind and generous people behind those businesses. Want your button there, too? We still need lots of help, so please click here for more information.
The biggest thank you goes to sittercity, for covering the cost of the greeting cards and all of the postage. They had me when they offered to help, but the more I learned about the site, the more I fell in love. You post your babysitting needs, and their community of caregivers respond, allowing you to pick the sitter you like most (or who is most qualified to care for your little monsters.) I've often dreamed of a real life Mary Poppins, but I think I may be able to stop dreaming now. Hallelujah! And thank you, sittercity, for coming to the rescue in more ways than one.
Finally… I flew out to LA earlier this week to film a Queen Latifah segment. I like to think of it as the "Before Professional Hair And Make Up And After Professional Hair And Make Up" portion of the show.
I proudly wore a dress I found earlier in the week at TJMaxx for $19.99, and of course, informed Queen Latifah of that fact when she complimented me on it. She was lovely, though, and appropriately impressed. In case you missed it…
Thank you all, so much, for all of the support on this. None of this would be possible without you.
Update: Three days later, and we have raised $152,000. That means EACH AND EVERY applicant will be getting their Thanksgiving gift. Wow.
This article was originally published on