The Top 10 Must-Have Items For Every Breastfeeding Mom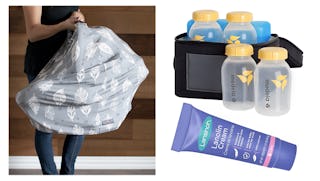 Images via Walmart
Breastfeeding is amazing and beautiful, but boy can it be challenging. Every mother who has nursed a baby, or attempted to nurse a baby knows exactly what we're talking about. But much like any other aspect of motherhood, once you find your footing everything seems much easier.
Here are 10 items every nursing mother should have.
Note: Prices reflect Walmart.com pricing at time of publication and are subject to change.
Your boobs will definitely leak, and they will do it at the most inopportune moments. These washable nursing pads will spare you a soggy shirt when your boobs betray you. (6-pack, $5.88)
Or if you're looking for a disposable option, these are our favorite disposable nursing pads. (100 count, $7.69)
For mamas who prefer a little privacy when nursing in public, this chic infinity scarf is perfect, because it transforms into a nursing cover, and bonus, it has amazing reviews. ($9.99)
Want to have a glass of wine (or maybe two) with dinner, but worried about nursing later? These alcohol detector strips will tell you if your milk is safe for baby. (5 count, $9.97)
Every nursing mama needs a good nursing pillow, and this is our absolute fave! It doubles as a butt donut if you're having a hard time sitting those first few days postpartum. Just sayin'. ($39.97)
You will be whipping your boobs out every 2 hours (sometimes more) for the foreseeable future, so easy access is a must. These nursing bras are cute, comfortable, and won't break the bank. Did we mention they also have great reviews. ($9.99)
There will come a time when you're stuck on the sofa with a dying phone and a sleeping baby. A 10-foot charging cable next to your favorite nursing spot will solve this common problem. (Apple $6.99/Android $5.29)
Every time you leave the house with the baby, it will feel like you are packing everything you own. Mamas across the country rave about this diaper bag. ($27.99)
If you plan to breastfeed when you return to work, there's a good chance you'll become BFFs with your breast pump. This electric pump has everything you need and comes in a convenient carrying bag. ($180.99)
Looking for a manual option? This one has amazing reviews! ($21.90)
Can we please talk about this awesome car seat cover? It's so versatile that we seriously think every new mom should have one. ($22.99)
They may not be big purchases, but they will make a big difference when you're in the breastfeeding trenches. So, fill your cart will all your favs, we promise you won't be sorry.
We may earn fees from purchases made via links on this page and affiliated sites. All opinions are our own.
This article was originally published on