Things To Do in Toronto With Kids
by Alysha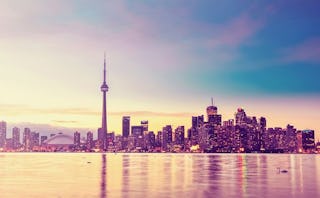 As the capitol of Ontario, Toronto is a fantastic place to visit with kids. Besides Toronto proper, there are a dozen other connected cities that make up the Greater Toronto Area (GTA). Each one boasts its own awesomeness, and a litany of things to do with your children—you could absolutely spend days exploring this beautiful city with your family. Before you book your hotel or Airbnb make sure you look out for packages that include tickets to the attraction of your choice— as many places offer them as part of a family deal. Here are our favorite things to do in Toronto with kids.
Best Places to Stay in Toronto
Well, you're going to need somewhere kid friendly to sleep while in Toronto, and lucky for you there are great options. If you're looking to add to your hotel reward points (free hotel room for another trip w out the kiddos?), the Downtown at CF Toronto Eaton Centre is at the heart of it all (and has an indoor rooftop pool!). Also downtown, the Harbour Castle has gorgeous waterfront views. More boutique your style? Then you'll appreciate the eclectic decor of the Bisha Hotel (one floor is exclusively designed by Kravitz Design; meaning Lenny Kravitz).
If no hotel is kid-friendly enough for you, and you need your own house or apartment (mini kitchen? kids get their own bedroom?), Airbnb has some of our all-time favorite Toronto locales from a condo with views (35th floor!) to an elegant Victorian to a whole house in Summerhill with parking.
How to Get Around Toronto
If you're staying in the downtown Toronto area, no car necessary. This is a walking city. But if you've got day trips planned (maybe even Niagara Falls?), you'll be needing a car. Hertz has a pickup location at the airport and also close to downtown.
Best Unique Experiences in Toronto for Kids
In your former life, you probably enjoyed quiet days wandering the city, but let's be realistic and accept that kids need things to do. Put down their tech devices (and yours) and plan a few special experiences that are unique to Toronto. Everything from hiking the glorious waterfalls to an artisanal gelato tour to a cultural walking tour of the city can be booked beforehand.
Kids Activities in Toronto
We're getting the obvious ones out of the way first, but they should by no means be overlooked. The Toronto Zoo is pretty amazing and worth spending some time at. There are over 10km (6 miles) of walking trails, so it's definitely a full day trip. Pack a lunch and snacks, or you can spend the extra cash to eat there. The park is split up by continent, so you can plot out your route on the handy map anyway you like. You may want to consider checking out Canada Pavillion while you're nearby. Other things to keep in mind: trolley tours cost extra, both indoor and outdoor exhibits (don't forget the sunscreen), restrooms are far apart, and there is a 2-acre splash park so bring your swimsuits.
One of the coolest and most fun places to visit is the Ontario Science Center. Almost everything is interactive, but KidSpark is a learn-though-play area that's fun for all ages, especially the little ones. Be sure to check out the Planetarium in the Space Hall for sure. Walk through a rainforest, catch an IMAX flick, or just learn about the human body in great detail (a crowd favorite). There are ever-changing art and science installations, so check the calendar on the website to see what's on when you will be there.
High Park spans 399 acres and offers a variety of great things to enjoy. The huge playground, designed in part by children, is an enticing feature for yours. There is also a zoo, greenhouses, hiking trails, picnic areas, a few places to eat, and events throughout the year. If you are visiting in the spring, you might be lucky enough to catch the Sakura trees in full bloom—the gorgeous cherry blossoms attract thousands of visitors each year.
Canada's Wonderland offers everything your little thrill seekers are looking for. A boat-load of roller coasters, ranging from old-timey and wooden, to those that can cause you to lose your lunch and/or urinate yourself. There are a couple great zones for the tinier adventurer in your life. Planet Snoopy and KidZville have all the smaller, less death defying rides. Don't forget the large Splash Works waterpark, the animatronic dinosaur park, live entertainment and lots of places to eat.
A visit to Toronto would not be complete without at LEAST walking around the CN Tower. It really is a sight to behold when you're standing directly under it. But better yet, head inside. One floor below the look-out, is the glass floor. Can you handle it? I can't. But your tiny brave heroes will love it. You can see a 3D documentary, or do a motion theater ride. Another 33 stories up, you can find the SkyPod, a 360 degree view of Toronto and the surrounding area. Maybe you'd care to make reservations at 360, the revolving restaurant inside the CN Tower. Or maybe you left the kids at home and have balls of steel to try the Edge Walk.
The Art Gallery of Ontario is a fantastic place to expose your children to art of all types. They offer permanent collections, as well as changing exhibitions. There is also a hands-on centre where the kids can enjoy making art of their own, in a variety of exciting ways. If you happen to be there at the end of the month, they also offer Family Sundays on the last Sunday of every month, packed with more fun activities. Toronto is chock full of art galleries, installations, and exhibitions.
Right next to the gallery is Grange Park, another outdoor space where the kids can run wild. Here you'll once again find playground facilities catered to kids of all ages, as well as a splash pad. The park is also home to a Henry Moore sculpture in a fitting tribute to its location.
The Waterfront in Toronto is in redevelopment and now includes beautiful boardwalks and piers where you can not only take in the incredible views, but enjoy gardens, the beach, public art installations, and places to eat. From here, you can also connect to some of the other attractions mentioned, such as the island and tour ferries, and the CN Tower. The boardwalk (and future development plans) span a great distance along Lake Ontario, so you can spend an entire day enjoying activities and sights on the waterfront.
Centreville is a great place to take the smaller kids. It has a lot of rides suitable for younger ages, such as the 1907 antique carousel, mini coasters, teacup-esque rides, mini golf, and paddleboats. Don't count out the older kids for this one though. Aside from the attractions themselves, there are also places to eat and the island is beautiful. Take the ferry out for the day and have a picnic, or rent bicycles for the trails.
How could you visit Canada without visiting the Hockey Hall of Fame? If you have a major sports fan in your life, or need something to appease the hubby, then this could be the place for you. Not so much into hockey, but visiting in the winter? Try some ice skating at Nathan Philips Square.
A few blocks away from Chinatown is Kensington Market, a neighborhood lined with brightly colored Victorian houses, most of which contain kitschy and vintage shops. One the best neighborhoods to visit, it's also home to a diverse selection of amazing food. And if food is your thing, then you should also check out the St. Lawrence Market which offers a wide variety of specialty food fare, as well as a traditional farmer's market. Located in the Distillery District, you can also take a walk along historical cobblestone streets for great photography and a glimpse into Toronto's past.
Best Things to Pack For a Trip to Toronto
Like any northern city, Toronto weather lends itself to layering — which means a variety of basics is the key to fitting everything you need into a compact, travel friendly suitcase (read: leaving you more hands to carry all of your kids' crap). Your best bet for a daily uniform includes comfortable, yet fashionably appropriate, leggings paired with the perfect basic white tee (plus a few extra colors), a comfy goes-with-everything cardigan and a suede baseball cap. In colder months, be sure to bring a cozy scarf (that doubles as a blanket on the plane) and that beloved Amazon puffer that every influencer *loves*. I always have packable windbreakers for each of the kids and and on-the-go coloring rolls to keep them busy on a plane, in a restaurant, or in the hotel room.
Although we only recommend picks we really love, we may earn a commission on purchases made through links from our site.
MORE: Visiting Captiva Island With Family
Things to Do in San Diego With Kids
Spots You and Your Family Can't Miss in San Diego
This article was originally published on