Surprise, 'The Witches' Remake Is Arriving To HBO Max This Month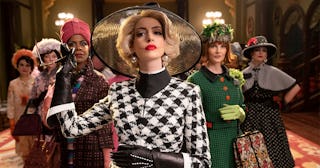 HBO Max
The film stars Anne Hathaway, Octavia Spencer, Stanley Tucci and more
Roald Dahl fans (or, everyone on the planet), it seems we have an October surprise of our very own. A remake of the 1990 film The Witches based on his best-selling novel will debut this month exclusively on HBO Max.
Warner Bros. announced Friday that its adaptation of the iconic 1983 children's book will premiere Oct. 22 exclusively on the aforementioned streaming service, and it features a star-studded cast. The film stars Anne Hathaway, Octavia Spencer, Stanley Tucci, Chris Rock (well, his voice anyway), and is directed by Oscar-winner Robert Zemeckis.
The film was originally scheduled to hit theaters in October, but with all things pandemic, it was delayed.
If you've not yet seen the 1990 version, the story is about a little boy who happens upon a coven of witches and, with the help of his sweet grandma, thwarts their plans of ridding Britain's kids by turning them all into mice. The 1990 film starred Anjelica Huston and Rowan Atkinson, so it's really worth a viewing of its own this Halloween. It did, however, get a thumbs down from Dahl himself for not following the ending as he originally wrote it.
In the new film, Hathaway plays the Grand High Witch, while Spencer plays the beloved grandma who will fight her plans with everything she has. Tucci is playing the role of the hotel manager who accidentally hosts the witches' convention much to his shock. Jahzir Bruno plays the brave little boy (voiced by Rock as an adult), who becomes the hero of the story.
In addition to directing, Zemeckis wrote the screenplay with Kenya Barris and Guillermo del Toro, and is said to follow Dahl's original story more closely.
"This film, with its stellar cast, is outstanding," said Casey Bloys, chief content officer for HBO and HBO Max. "We are thrilled to be able to use our platform to deliver timely, relevant and engaging new content during this time when the theatrical experience is not available to everyone."
HBO Max launched in May and has since featured and premiered some big hits, including Lord of the Rings, the DC Comics franchise, Euphoria, Amy Schumer's Expecting Amy, and Lovecraft Country, giving other big streaming services a run for their money. If the new The Witches garners a cult-like following, like the 1990 version did, it will definitely have a trove of viewers.
The film will debut soon, so get your popcorn and candy corn ready, and plan a family movie night that's sure to entertain everyone.