Ep. 1: There Is Something About Great Singing That Makes Babies Fall Asleep.
by Alison Bucalo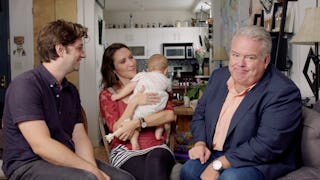 The premiere episode of Scary Mommy's original series Lullaby League is here! It's the ultimate bedtime battle where a cappella groups compete to sing a baby to sleep. In this episode, we meet Mom, Noemie, a photographer, struggling to work from home with baby Emma who refuses to go to sleep. Can the sweet sounds of the a capella singers from The Perfect Fifths send baby Emma to La-La Land? Tune in to find out.
The group with the fastest time advances to the next round in the competition. The winning group will receive a professional recording session (and parents get some much-need quiet time). Hosted by the hilarious Jim O'Heir of Parks & Recreation. Lullaby League airs Wednesdays at 8:10 p.m. ET on Scary Mommy's YouTube Channel and on Facebook Watch.
This article was originally published on