This Is Not A Drill: 'Charmed' Reboot Is Officially Happening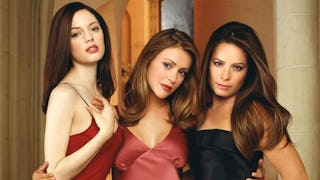 Image via Andrew Macpherson/WB
Charmed is coming back. All is right with the world
It has officially been the season of reboots. In the past two years, we've gotten Gilmore Girls (thank the lord), Full House, Will & Grace, That's So Raven AND Roseanne. To add delightful nostalgia upon delightful nostalgia, word has just gotten out that Charmed is headed back to the small screen — with a few new twists. This is great news because A) Charmed was amazing 90's gold and B) we really need three badass female witches right about now.
The witchy reboot is set to premiere on The CW, Entertainment Weekly reported, and will take place in present day.
"This fierce, funny, feminist reboot of the original series centers on three sisters in a college town who discover they are witches," the network said in a statement. "Between vanquishing supernatural demons, tearing down the patriarchy, and maintaining familial bonds, a witch's work is never done."
Yup. Already super into this.
This is definitely a little bit of a departure from the original show, which told the story of grown-up witches navigating some very adult problems in the real world. No word yet if the original Charmed cast members (Rose McGowan, Holly Marie Combs, and Alyssa Milano) will make cameos. Combs actually seemed pretty irked by the idea of a reboot on Twitter, so we might have to assume that she will be a no-show to any sort of reunion.
She was also annoyed by the implication that the original Charmed didn't have a feminist spin.
Meanwhile, McGowan recently took a significant dig at Milano on Twitter, after her former co-star lent support to Harvey Weinstein's ex-wife Georgina Chapman.
Soooooo, yeah. We probably shouldn't count on any sort of fun on-screen reunion between co-stars. HOWEVER, that doesn't mean we can't get excited for this reboot. I mean…there's going to be magic, girl power, supernatural demons, and patriarchy fighting. What more could you possibly ask for?
Obviously, not trying to be picky here, but if the Book of Shadows doesn't make an appearance or there isn't at least one handsome whitelighter, I'm going to have to boycott the show altogether.