There's an App for That: Should We Be Spying on Our Kids?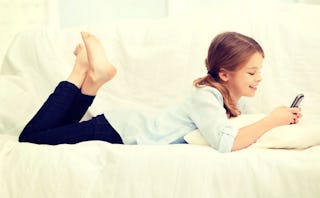 We talked to him about how to use it carefully, told him not to answer calls from numbers he didn't recognize, and stressed that it was there for safety, not just for texting his friends. And when we gave him an email account, I set it up so it ran through my iPad as well. I don't read conversations between him and his friends, but I do unsubscribe him from lists and delete spam. I draw the line, however, at outright spying, even though I have the capacity to do so.
Unlike me (in many more ways than this), the South Korean government doesn't draw the same line. They funded the development of an app called Smart Sheriff, which was created to block minors' access to pornography and other "offensive" content, but also allows parents to monitor how long their kids are on their phones and exactly what they're doing. There are other apps like Smart Sheriff that send location data to parents, or send alerts when the user searches for certain terms such as suicide, pregnancy or bully.
What's especially intrusive is that the government there requires phone companies to install one of these apps onto any phone belonging to someone 18 or under. There's no official opt-out, although of course there are ways around such things if you're resourceful, like passing an old phone down to your kid when you upgrade your own.
So separately from the issue of forced installation, which is something Americans would never tolerate, there's the bigger question of how much we should be monitoring our kids, and how specifically.
Isn't everyone entitled to a little privacy? It's not that much different from reading their diaries, is it? Maybe it is different, a little: It calls to mind a memorable episode of Law & Order: SVU when Elliot Stabler (Chris Meloni) told his daughter that he's not afraid of what she's doing on the Internet, he's afraid of all those other people out there who can get to her. I have the same fears, and I'm not a detective in the NYPD. But I wouldn't read my kids' diaries, and I wouldn't install something that tells me everything they're doing, whether it's on the web or not. Do we think danger is restricted to the electronic world? It isn't. There's danger everywhere, and we're better off equipping our kids to recognize it than setting them up to resent us for doing it for them.
And when we worry that my son's spending too much time on his phone or his computer, we restrict the time until his homework is done, or we just tell him to quit it. And I try to make sure I'm not holding my iPad when I say it, because I think I spend more non-working time on my devices than anyone else in my household.
Maybe my kids should put the app on my phone, so they can tell me to quit checking my email and playing games, and hang out with them instead. Or they could just ask me. No software required.
This article was originally published on