These Adorable Stories Prove That If You Look Like Santa, You Better Be Prepared To Act Like Him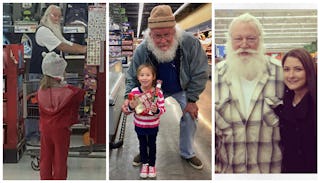 Images via Facebook.
These Santas make kids' dreams come true year-round
When you look like Santa Claus, every day is Christmas. It's apparently an unspoken rule that when you rock the white hair and matching beard, you'll be expected to answer to Santa in a variety of places. Ana-Marie Sandoval saw Kris Kringle one day last year and when she shared the story online it went viral. A few days ago the popular Facebook page Love What Matters shared her story again and it inspired a flood of comments from people who have run into Santa in their towns.
Sandoval described her St. Nick encounter: "Aria and I saw this man shopping while we were at Walmart this morning. She stopped him to ask if he was Santa. He said yes and wished her a Merry Christmas as he walked by. Her eyes lit up and she got a huge smile on her face and we continued shopping." She shared the photo below of Aria with the Santa she met that day.
"A few minutes later, he found us in another aisle and asked if we had a couple minutes to talk. It's Santa, of course we have time to talk!!! He chatted with her a bit…asked her how old she was, her name, what she wanted for Christmas," Sandoval recalled. "Then he grabbed some Christmas candy he had put in his basket and gave them to her along with $10 to purchase them. She even had enough extra that she was able to buy a chocolate surprise toy each for her sister and herself." Sandoval said this kind Santa twin is "keeping the Christmas spirit alive, not only for the kids, but for us all!"
More than 1,000 people left comments on the post and shared their stories of running into Santa in around town. Like Rebecca Wells Buckley-Huber, who posted the above photo of her husband and said, "interacting with young people and those young at heart happens almost every day…and it never gets old."
Look at this sweet girl making sure to catch Santa. Ashley Griffin posted this picture of her daughter following Mr. Thomas aka St. Nick around Walmart. "He heard her fussing that night over toys and told her to be a good little girl, that he would be visiting really soon," the mother wrote. "He gave her money to buy an ice cream after she sat & listened to him. We found out he plays Santa at Walmart. To this day when we see him working she gets so tickled to see him and follows him through the store."
This Santa had some helpful tips for Melissa Christiansen Carlisle, who wrote that "he was teaching us how to gently press the candy cane wrappers on the boxes to see if the hooks were broken!"
Suzette Yvonne Sweeney shared the above photo of her grandsons with the Kris Kringle they spotted at a tree lighting ceremony. "He was such a good sport and let each whisper in his ear what they wanted for Christmas," she explained. "Just look at the sparkle of happiness in their eyes!"
Sherrie Bulger gets to see her Santa aka her father-in-law for all kinds of fun things, including the best meal ever – pizza.
This sweet girl met Santa at a McDonald's years ago, according to mom Alicia Clark. Her daughter could not stop looking at who she knows as The Man With All The Presents. "He approached us on his way out and leaned down and said, 'I know who you think I am.' She nodded, and he said, 'and you're right'" Clark recalled. "He gave her a lump of coal and told her to keep it forever and to remember to be good or else that's what she'll get for Christmas." Expert advice from an everyday Santa. "I think that piece of coal is still her favorite thing she has ever gotten for Christmas," the mom added.
Santa at the beach, who knew? Meg Conley caught this unexpected sighting on camera in Ocean City, NJ. "He was very gracious and stopped to talk with our kids," she said. "They were stunned he had shorts on! I told them Santa deserves a vacation too!"
Just playing along is enough to ask of these Santas waiting in the wings. Can you imagine strangers regularly appearing by your side waiting to chat about possible presents? It could be an awkward situation. But these kind souls seem to really cherish the Christmas ritual. Several parents wrote in the comments how these Santas gave their kids a few dollars and some tips on avoiding coal in their stockings. If their playful generosity doesn't get you in the holiday spirit, we don't know what will.