These Candles Make Perfect Gifts For Your Homesick Friends And Family
by Jerriann Sullivan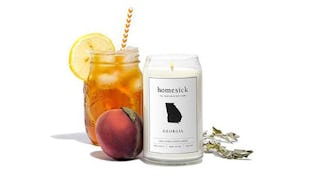 Image via Homesick Candles.
Homesick candles combine all the best scents from each state
If you're like me, then your fiancé has cut you off from buying candles. If you're not like me and can keep your love for candles from spiraling into an addiction, then we've got a new one for you just in time for the holidays. These babies smell like your state, and we're trying not to buy all of them.
Sure, candles make us basic bitches but who cares because our houses smell fucking magical, am I right? Plus, we all look 10 years younger in a dimly lit room. Well, these babies from Homesick Candles will wrap you in a cocoon of nostalgia with their perfect state-by-state scents. My soon-to-be father-in-law, who is very smart and spiritual, explained to me that the coziness candles create can be considered an important ritual as well. Clearly finding clever excuses for my candle obsession is a full-time hobby.
To craft the perfect Empire State scent the candle experts mixed hints of Adirondacks forest floor, apple orchards, and pumpkin.
Folks from SoCal will smell cactus, orange, and the ocean.
And to make Texans feel like they're at home hints of leather, a bit of fresh cotton, and just a touch of sage were mixed together. These hand-poured beauties are made from all natural soy wax in the good old United States of America. And that orange demagogue thought America wasn't already great. The Homesick Candles burn for 60-80 wonderful hours and have unique scents based on USA states.
As a born and raised Floridian I can attest that the mix of orange, sea mist, and driftwood is the perfect scent to represent the Sunshine State. The Homesick Candles could have thrown in some tears for the shame the state brought our country during the 2000 and 2016 elections as well, but I digress.
Don't believe me, read this review from Grace R. who said: "My parents sent me a care package with this candle in it after I moved from St. Augustine for a job in Tennessee. I have to admit I didn't know how to describe the scent of Florida before getting this candle, this candle nails it! It's the best scents of the beach and woodsy areas of Florida combined. While I'm still a little homesick, burning this candle does help, and I know some girl friends of mine who are leaving Florida soon and will love this! THANK YOU for making this candle, guys!" Awww.
Since I just relocated to Washington state I had to check out their candle. Anything to get the smell of legal weed out of the neighborhood, right? The scent scientists crafted this one with hints of cherries, coffee, and rain. I don't know if anyone is actually missing Washington's rain, but it seems insane not to include it. Patricia H. wrote: "I haven't enjoyed it candle this much in….maybe forever. I am leaving WA in a month for a new military posting, but I'm glad I'll get to bring a little piece of Washington with me :)"
These delightful candles are $5 off this week. See all the states on the Homesick Candles site.
This article was originally published on