These Anti-Chafe Thigh Bands Are Here To Save Your Summer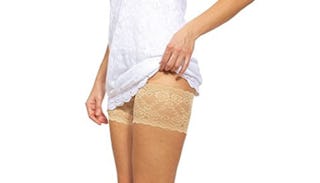 Image via Amazon
These anti-chafe bands are everything your summer thighs need
If you've ever been out trying to enjoy a hot summer day without a care in the world only to be (literally) stopped in your tracks because your thighs were sticking together, this next product is definitely for you. Anti-chafe thigh bands. Because someone heard our prayers.
A genius who obviously loves women (and thighs?) invented Bandelettes Elastic Anti-Chafing Thigh Bands. The bands range in price from $17-19 and come in both lace and plain tops. They also come in a variety of colors so you don't even have to plan your outfit around the dreaded "chub rub." Did someone say miracle worker?
According to the site, the bands are made of a grease-free, chemical-free solution that protects delicate skin and prevents chafing between thighs. They also have non-slip silicone bands on both top and bottom to prevent sliding or rolling. They're made of 82% nylon and 18% spandex, so they also won't shape-shift as you go about your day. They're also much more lightweight than typical "thigh highs" so you can comfortably frolic about in the hottest of summer days.
Perhaps some of you are reading this and thinking, "What the heck is thigh chafing, my thighs don't even touch when I walk." Please kindly see your way out of this article and go about your perfect existence. For the rest of us, these little miracles could be the answer to that god-awful discomfort.
And since nobody wants to wear jeans or leggings during the heat of the summer, these little puppies will allow for all the dress and shorts wearing to commence. And according to the product description, you can even where these "in athletic or active situations."
If customer reviews are anything to go by, buyers will be happy as clams with the results. With almost 60 percent of customers giving them five stars, it seems like a good bet for the money:
"These are fantastic! I work overnights and wear dresses regularly to the office, I've been using the deodorant style anti-chafing rubs and wanted a longer lasting option. Ding Ding ladies!! This is it! So comfortable I fell asleep in them! No marks, no uncomfortable 'digging in.'"
"These are a life saver. I chafe really badly in the summer/when I sweat and these are cute/sexy and 100% prevent chafing. I have gotten compliments on them and people have asked me where I got them. They stay in place even when you're sweating."
"How cute (or sexy!) are these? What a fantastic idea, they took something that was needed by millions of women (chafing guard) and made it both practical and adorable."
"Picture an angel. Actually, picture Kevin Sorbo circa 1998–you know, when he was Hercules and his arms were huge and muscular. Got it? Okay, imagine that he wore pretty lace armbands that were imbued with magic. Then imagine that he gifted them to the mortals. This was the dawning of the Age of Bandelettes. In all seriousness, these things are WONDERFUL."
Kevin Sorbo and chafe-free thighs in one sentence? Sold.
This article was originally published on