Dad Brings His Son's Drawings To 'Life' And It's Creepily Amazing
by Valerie Williams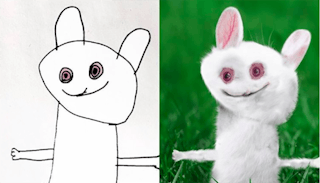 "Things I Have Drawn" Instagram shows a dad making his son's drawings a reality and it's way too cool
If you have kids of a certain age, chances are, most surfaces in your home are covered in their artwork. Some of it's probably super zany and out-of-this-world because hello, it's from the mind of a child unencumbered by the realities and horrors of being an adult. They're free to dream big, and for one little boy, his dad is dreaming right along with him by bring his crazy drawings to life. The results are both incredible and kind of creepy.
Don't say we didn't warn you.
Dom is six years old and has a big imagination. For about a year, his dad has helped him post images of his drawings to an Instagram account called Things I Have Drawn. And the account is exactly that — Dom's artwork, with an added twist. You see, for every cool drawing he makes, his dad creates a "real-life" version using digital programs.
Because we all have a drawing of a face made by our kid that looks a little like this.
What makes this so interesting is what a child tries to convey versus what we adults see. For instance, Dom saw a seagull. His dad saw something straight off the set of Yo Gabba Gabba.
Dom's cool swan looked a bit more like a portly ghost from his dad's perspective.
Frankly, we prefer Dom's penguin to the real thing.
His slug is amazing too. A lot more adorable and less slimy than the real thing.
OK, Dom. Don't be upset, but this time, your dad wins. That burst of fire coming from the robot dinosaur's bottom was just too good.
Although he's lacking ears, we're in love with how cats look in Dom's world. Those skinny stick legs, though.
Dom's dad updated his version to reflect the reality that this crab is about to be boiled and eaten. Definitely no smiles in that scenario.
The best part of this project is a father and son spending quality time together, but it also tells Dom that his creative ideas might have legs in the real world. And encourages him to keep dreaming, because he gets to see the result when his dad interprets his art. What could be more motivating?
Anything that keeps a child creating and imagining is a wonderful thing, so kudos to Dom's dad for this extremely cool idea.
H/T Bored Panda
[free_ebook]
This article was originally published on