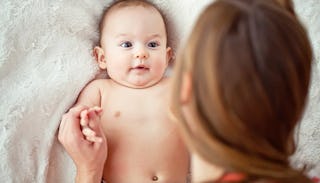 Image via Shutterstock
1. Are they seriously just going to let me walk out of here with this baby like this? There's no test or anything?
2. How can one tiny little human poop so much in one day?
3. How can one tiny little human eat so much in one day?
4. This would be so much easier if I had an extra set of hands. Why hasn't evolution resulted in that?
5. What day is it?
6. Wait, what month is it?
7. OMG. I think I broke him.
8. Is that poop supposed to be this color?
9. I don't think I'm doing this right.
10. I'm SURE I'm not doing this right.
11. Is he supposed to make that sound?
12. Seriously, she can't be hungry again already.
13. WHY DID I GOOGLE THAT???
14. Please don't spit up on my last clean outfit. Pretty please?
15. Am I ever going to feel like myself again?
16. If one more person tells me to "sleep when the baby sleeps," I might just snap.
17. She looks uncomfortable… should I wake her up?
18. How the hell does this outfit snap?
19. I'm not stupid, why can't I figure this fucking outfit out?
20. Wait… Did having a baby make me stupid? Like, permanently?
21. Should I answer the door, or put my boob away first?
22. I really need a drink.
23. PLEASE STOP CRYING.
24. FOR THE LOVE OF GOD, PLEASE STOP CRYING.
25. This is nothing like I thought it would be.
This article was originally published on