Fun Things to Do With Kids in Aurora, Colorado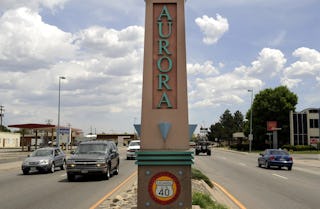 Hyoung Chang/Getty Images
If you're visiting Aurora with kids, the Gateway to the Rockies offers plenty of outdoor activities, lots of emphasis on local history, and fun, family-friendly restaurants. Check out our guide for things to do in Aurora with kids.
Best Kids Attractions in Aurora, Colorado
Are you looking for "extreme" fun? That's what Jumpoline, a trampoline family-fun center in Aurora, promises: the giant trampolines, foam pit and rock-climbing area (wait—is that an image of Mount Rushmore on those rocks? It is!) look like they deliver. Parents: if you're eyeing it enviously, it's open to everyone.
At the Aurora History Museum, you can learn about the history of both Aurora and Colorado; kids will love the Trolley Trailer, a restored 1913 trolley that visitors can explore. A current exhibit includes "One Small Step," which chronicles the moon landing in 1969. Kids will also love the Collector's Corner: Every few months, the museum displays collections from residents, from Hello Kitty to owls.
If you have a kid who's a confirmed horse fanatic, or, conversely, one who's tentative about horses, 12 Mile Stables offers lessons for both. You can opt for a riding lesson or "Introduction to Horsemanship," which includes info on how to groom and saddle a horse. Little Buckaroos (kids ages 3-6, who may or may not object to being called a little buckaroo) are also welcome.
At Painting With a Twist, you can opt for a painting session with the aforementioned twist (alcohol is served) or the family-friendly version. No art experience is required, and all supplies are provided. Check out their Glow Family Paint Night, which comes with pizza and soda (and apparently, things that glow). Of course, you get to take your masterpiece home with you (so probably better to abstain from that wine anyway).
Got time for a ride? See some outdoor art? Why not do both at once? The R Line Public Art Tour takes visitors to a series of light-rail stations, each of which has an art installation that reflects the community. "Bike Train," for example, uses donated bikes from community members, while "Sunrise" is a 16-foot interactive solar disc with 24 turning wheels. Sound is also a component: if you hear jazz or animal noises, you haven't lost your mind.
Best Family-Friendly Restaurants in Aurora, Colorado
The kids' menu at Sam's No. 3 is more extensive than many regular menus—kids can get everything from mac-n-cheese to pancakes, corn dogs, and tacos. Each meal comes with juice, milk, or chocolate milk. There's plenty for grownups, too, and the prices are reasonable: burritos start at $3.50, and breakfast fillings are especially well represented. For a blast from the past, check out their lunch-lady classics, like French Dip.
You might not be visiting Aurora for the Australian food, but that doesn't mean it's not to be had. At The Great Australian Bite, meat pies and sausage rolls are what's for dinner, plus a variety of deserts. (Lamington, anyone? And before you Google it, it's a kind of sponge cake with chocolate and coconut.) Sides include mushy peas and mashed potatoes—can anyone say "comfort food?"
Gator Bites? Crawfish pie? Perhaps chicken and sausage gumbo? The menu and the vibe at The Lost Cajun may say Louisiana, but you're still in Aurora, Colorado. You can even get crawfish etouffee and beignets. There's a kids' menu—and yes, it includes catfish bites, if they're feeling adventurous. (If not, there are chicken tenders.) And if you love it, branches are open in other cities across the county.
BJ's Restaurant and Brewhouse is another great place to eat with your family. At BJ's, the kids menu doesn't just offer the standard mac-n-cheese–it includes mini deep-dish pizza and boneless wings with root beer BBQ sauce, plus a pizookie—a fresh baked cookie with scoop of ice cream. Parents might want to go for one of the slow-roasted entrees (tri tip; pork chops) or pasta, like Chicken Alfredo. Soups are innovative: check out the pale ale chili or the vegan lentil soup with ancient grains.
Rosie's Diner is another awesome spot to eat in Aurora. With breakfast served all day, and an array of classic diner food (and classic diner décor) your kids may try to have every meal here. There's the familiar (fried chicken, tacos, burgers, spaghetti and meatballs) and—depending on your eating habits—the less familiar: you'll find wet fries (fries with gravy) and fried pickles. Definitely check out the shakes—flavors include Butterfinger, Oreo, and mango.
Best Family-Friendly Hotels in Aurora, Colorado
If the signature chocolate chip cookies don't lure you in (and face it, they probably will), the pool and complimentary local transportation at the Doubletree by Hilton Hotel Aurora Denver just might. The hotel restaurant has a children's menu (huzzah!), cribs and high chairs are available, and there's a fitness center and free self-parking.
If you're looking for no frills, look no further than the Best Western Plus Gateway Inn & Suites. It offers straightforward décor, but comes with a full hot breakfast, indoor heated pool, spa, and a guest laundry. Lots of features to make rooms more accessible are available—and there's a noon check out, so you can all sleep in.
At the Hyatt Regency Aurora-Denver Conference Center, you're right near everything from the Rockies to Aurora's arts district. The rooms are spacious, there's an outdoor pool, and the gym is open 24/7. Take advantage of their patio during the warmer months; everything tastes better when it's eaten outside.
Don't let the fact that Woolley's Classic Suites is at the airport stop you—with the Rockies as the backdrop and the spacious rooms, you'll forget how close you are (Until it's time to go, when you'll be thrilled.). Take advantage of the complimentary airport shuttle—and the complimentary breakfast, plus the indoor pool (which your kids will no doubt discover right away).
When you drive up to the Gaylord Rockies Resort and Convention Center, you may think you've taken a wrong turn and somehow ended up in the Swiss Alps—the huge mountain lodge will have you yodeling in no time. There's an indoor/outdoor water complex and a lazy river, views of the Rockies, a choice of restaurants, and a caboose in The Grand Lodge. Yes, you read that last part correctly.
Best Outdoor Attractions for Kids in Aurora
Sometimes you just need some run-around time (for the kids, but maybe for you, too). In the 11-acre Centennial Park, kids can cool off and jump around in the Splash pad, plus try out the climbing walls and playground. When they're done, you can head to one of the many places to picnic. Check their schedule for fun happenings like concerts and community events.
If you're looking for a one-stop outdoor place to spend the day, look no further than the Aurora Reservoir. Bring plenty of gear, because it features swimming, boating (a note on their site says boating season begins "once the ice has thawed," which you've gotta love), archery, and fishing.
The Senac Creek Nature Center features a multi-faceted approach to learning about nature: they have animal costumes, electronic games, and hand-made puzzles—clearly the if-one-doesn't-appeal-to-you-another-will approach. They share facilities with the Aurora Reservoir, so you have access to the Reservoir's fishing pier and other outdoor activities. And while you're there, don't miss the Center's photography display.
If you're an animal lover, head to Cherry Creek State Park—there's an off-leash area for dogs, plus great birding—bring binoculars, and look for raptors, eagles, and hawks (not, sadly the dinosaur kind of raptor.) You can also boat, fish, swim, ride horses, hike, picnic, and even sailboard. Your only problem will be figuring out how to cram it all in.
If you're in the mood for a hike that's not overly strenuous, head to the Jewell Wetlands. You'll find both hard and soft-surface trails dotting the 50-acre wetland, boardwalk access into the wetland itself, and a butterfly garden. (It goes without saying: Have your camera ready at all times). And yes, parents—it has a restroom.
Historic Places in Aurora, Colorado
Several venues around Aurora speak to Colorado's rich history: The Delaney Farm Historic District includes buildings that date back to the 1800s, and hark back to Aurora's farming and ranching past. The Coal Creek Schoolhouse served generation of schoolchildren, starting in 1928, and the Gully Homestead House is the oldest surviving home in Aurora.
More: 7 Ways Your Family Can Afford To Travel The World
20 Reasons Panama City Beach Will Rock Your World
The 9 Personalities Of A Kid On A Road Trip
This article was originally published on