Things To Do in Bakersfield With Kids
by Evan Levy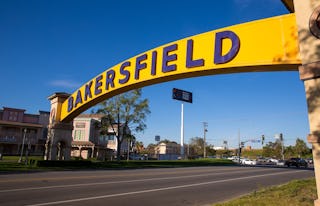 George Rose/Getty Images
If you're planning a trip to Bakersfield, California, with the family, you're in luck. There are plenty of great things to do in Bakersfield with kids, from museums to a river walk and more. Here are our picks for favorite things to do in Bakersfield.
Best Kid-Friendly Attractions in Bakersfield
Part of the California Living Museum (CALM) is, in fact, living: there's a zoo featuring the likes of badgers, bears, and coyotes, plus a Children's House, Reptile House, and Ringtail Cat Exhibit, and an emphasis on creatures that live in California. And if you think there are no bargains left, don't forget the Central California Children's Railroad. It wends its way around the zoo, and it costs $1.
With a focus on the earth's history, the Buena Vista Museum of Natural Science and History encompasses exhibits focused on Astronomy, Paleontology, Biology, and more. They offer a robust roster of interesting programs, a stellar collection of fossils, and a display of petrified woods, gem and minerals. They also have North American, African, and Asian exotic wild-animal exhibits. Check out their lectures and First Saturday of the Month Family Days, too.
We're not sure that King Arthur would be at home here, but kids should certainly be in Camelot Park, a family amusement center. It features Go-Karts, mini golf, bumper boats, and a huge arcade. There's even a section of kiddie rides for the youngest squires and damsels, plus extremely un-Kingly food like hot dogs, pizza, and Icees.
Flight Fit N Fun may be a mouthful to say (and to figure out), but all you really need to know is that this indoor entertainment and play center has a battle beam (knock your friends off a beam with soft cushiony things), foam pits, and trampolines. And if you don't feel like jumping or hitting someone with foam, there's free Wi-Fi, a lounge with TVs, and snacks. Let the kids get fit and hit each other with foam blocks—you just chill.
The Kern County Museum, not surprisingly, celebrates the history and culture of Kern County. They have more than 60 historical buildings, 16 acres, and thousands of artifacts. Their aim is to show how the area helped shape California's history. Look for the one-room schoolhouse, the jail, and the general store. They also offer a variety of programs for both adults and kids.
Kid-Friendly Restaurants in Bakersfield
If you think of a fried shrimp basket as a starter, and know of no better way to end a meal than with bread pudding with rum caramel sauce, you'll be in heaven at J. Place Waffle House and Southern Style Cooking. In between, you can sample meatloaf, pork chops, fried chicken, and a whole lot of gravy. The kids menu includes chicken tenders and friend catfish. And if you love the cobbler, they sell starter kids to go.
The first thing you should know about Cope's Knotty Pine Café is that they open at 6 a.m., so if you have early risers, breakfast is available. It has a log-cabin feel and is decorated with "tchotchkes" (you'll know them when you see them). The cafe features scrambles of every kind, from chorizo to bacon, mushroom and Swiss. Portions are large, the biscuits are larger, and sandwiches and salads are available for lunch.
If you hear some Pasta Bolognese calling your name, it maybe calling from Luigi's, an old-school restaurant in Bakersfield. In addition to a wide variety of pasta, you can order antipasti platters and sandwiches, plus there's a menu for the "bambini." They even offer a gluten-free menu, plus weekly specials. And if you decide to take your lunch on the road, there's a deli next door.
When in Bakersfield, eat Basque food (believe it or not, Wool Growers Restaurant isn't the only one). The restaurant focuses on the food of Northern Spain and Southern France. Even picky eaters will find something to feast on—amongst the filet of sole, Basque sausage, and pickled tongue, you'll find cheeseburgers and fried chicken. Not sure what part of Northern Spain those are from, but kids probably won't object.
OK, so it isn't a restaurant, per se, but you'd be remiss if you didn't stop by Dewar's Candy Shop in Bakersfield. You can justify it by telling yourself that they have a menu—even though that menu has sundaes, malts, freezes, and the like. Flavors range from cotton candy to lemon flake, toppings include gummy bears and gumballs, and you should definitely get some candy to go.
Family-Friendly Hotels in Bakersfield, CA
If you're looking for straightforward accommodations with the added benefit of a heated indoor pool, check out La Quinta Inn & Suites by Wyndham Bakersfield North. You'll get a fitness center, free breakfast and free parking, and nearby access to attractions like the Museum of Natural History and the Fox Theater. Plus it's reasonably priced and pet friendly. What more could you want?
Want a hotel that says, "I'm historic?" Check out The Padre Hotel, which opened its doors in 1928. It was recently renovated, and now features four types of rooms, iPod docking stations, a cool lobby, and five onsite restaurants. Check out their special events, from Father's Day brunches to salsa dance lessons (for adults).
For a hotel that says, "I'm on vacation," or at least, "I have somewhere pleasant to unwind at the end of the day,'" the Four Points by Sheraton Bakersfield is set on seven acres of landscaped grounds with an outdoor pool surrounded by flowering trees and shrubs. You can walk to nearby shops, plus there's a refrigerator and microwave for those 5 p.m. "I'm hungry" declarations your kids are likely to make.
If a straightforward hotel that still comes with amenities like cookies at arrival is what you're seeking, check out, and then check into, the Doubletree by Hilton Hotel Bakersfield. There's a pool (and a pool table), plus a jogging track and fitness center. Kids can choose meals from the kids' menu, the staff is multi-lingual—plus the hotel has lots of accessible features.
At the Country Inn & Suites by Radisson Bakersfield, you can swim or workout in the fitness center—which you'll probably need, because complimentary cookies are available 'round the clock. Best feature? The Read It & Return It Library, which has books ranging from non-fiction to teen reads. And if you don't finish your choice while you're there, you can return it on your next visit to a Country Inn & Suites.
Best Outdoor Attractions in Bakersfield for Kids
Kids will immediately be drawn to the two lakes connected by a stream at The Park at River Walk (yes, there are opportunities to get wet). You can find picnic facilities, a children's play area, and lots of dogs (it's pet-friendly). The venue is also known for live performances.
Kids will probably make a beeline for the Animal Garden (or, petting zoo, to the rest of us) at Murray Family Farms. There, you can mingle with (and feed) goats, ponies, and sheep. The farm even offers a variety of tours, and of course, pick your own seasonal fruit; don't leave without a bushel (or at least, a small container) of local produce. Seasonal activities include the Slide N Ride, a giant bounce pillow, and a barnyard ball toss.
Right in Bakersfield, CA, you'll find the Ernest Quarries, the most fossil-rich Miocene marine fossil bed in the world (translation: they have a huge deposit of marine fossils, and you can dig for them). Note: kids have to be 10 to participate in any of the activities. Bring, sunscreen, water, and something in which to stash your finds!
Because it's one of only two professional ballparks where the batter faces west into the setting sun (someone wasn't thinking clearly), the baseball games at Sam Lynn Ballpark often start late, after the sun sets. Currently the Blaze, affiliated with the Seattle Mariners, play there. They also have drive-in movies, dog shows, 5K runs and more.
Central Park in Mill Creek is the only park in downtown. It includes a lake with spray fountains (to be clear, they're not for spraying people), a playground, and public restrooms, plus a walkway next to a river, and lots of places to picnic. Bring a lunch, feed some ducks, and enjoy the sights, including a lovely waterfall.
Culture in Bakersfield for Kids
Nicknamed "The Country Music Capital of the West Coast," Bakersfield offers a number of ways to enjoy its country-music roots. There's even something called "The Bakersfield Sound," which was influenced by rock.
Stop by the Bakersfield Music Hall of Fame, which offers concerts and performances.
The Fox Theatre offers everything from community events to big-name performers and cover bands. And Bakersfield was the home of country music greats Merle Haggard and Buck Owens—you can check out the Buck Owens Crystal Palace, part restaurant (plenty of kid-friendly offerings), part nightclub, and part museum.
More: How Traveling Is Helping My Autistic Son
Things To Do In Austin, TX With Kids
Start Traveling With Your Kids When They're Young
This article was originally published on