Things To Do in Brooklyn With Kids
by Kathleen Harris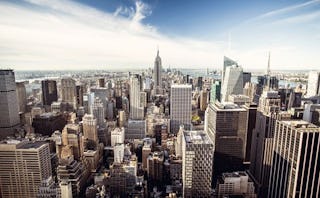 Everyone who's ever been to Brooklyn knows there's something special about it. From the bridge to everything underneath, it's a great place to spend time with family. Here are some of our favorite things to do in Brooklyn with kids.
Brooklyn Bridge Attractions
First stop is — of course — the Brooklyn Bridge. (Little-known fact: it's actually not for sale.) If you start off on the Manhattan side, take the 4, 5, 6, J or Z subway lines to the Brooklyn Bridge/City Hall stop. From City Hall, you can cross Park Row and begin your walk across one of the most famous bridges in the world.
Walk along the pedestrian path and prepare to be amazed at the views. It's a 1.3 mile walk across the bridge, so bring a folding stroller for little ones so they're not too tired out. Dads have no excuse—tell them to zip it and keep going. Be sure to keep an eye out for zooming cyclists and stay on the path. Turn the kids around along the way for one of the most breathtaking views of Manhattan. Ever. Then take lots — and lots — of pictures of your family, smiling and laughing and pointing at the city skyline. Your kids will tell their kids someday about the experience.
Once you've crossed the bridge into Brooklyn, descend the stairs and make your way to Brooklyn Bridge Park. This developed open space along Brooklyn's waterfront is an ideal place to flop down after that long walk and watch the kids spin in circles until they get dizzy. The views of the city are spectacular. Bike rentals are available through Bike and Roll NYC at the Pier 1 entrance, and there are several really fun playgrounds in the park for children of all ages. Kite flying is also highly recommended here.
You may want to start drinking your Starbucks the night before you visit our next family attraction in Brooklyn. You're going to need the energy to visit all the playgrounds at Pier 6 at Brooklyn Bridge Park . These awesome popular playgrounds include a giant sandbox, two-story slides, spraygrounds, nature incorporated play areas, Tarzan swings, and a plentitude of swingsets for every sized kid. These cool, hideaway-style playgrounds will keep your family busy for a full day. There's so much to play all under the dramatic view of the Brooklyn Bridge.
DUMBO (which stands for Down Under the Manhattan Bridge Overpass) is adjacent to Brooklyn Bridge Park and a great little neighborhood for food and a stroll, with the dramatic bridge overpass looming above like a fortress, to great effect. Just tell the kids not to get their hopes up for a flying elephant ride; instead stop at Dewey's Candy Store for a sweet treat.
More Brooklyn Attractions for Kids
The first subway stop in Brooklyn (Clark Street on the 2/3) takes you to Brooklyn Heights, an idyllic brownstone-filled neighborhood that's one of the most beautiful in the city. Montague Street is the main drag and has plenty of places to for hungry kids to eat (Henry Street is great for strolling, too), and at the end of the street is the Promenade, a walkway that looks across the water for a view of the Manhattan skyline worthy of a Woody Allen movie.
Whether you love or hate mass transit, The New York Transit Museum is like a love letter about all that goes into moving people around New York City. This is no ordinary museum. Housed underground in an actual "out of service" 1936 subway station, the museum's working platform level covers a full city block. There's a rotating interactive exhibit of 20 vintage subway cars dating as far back as 1907.
Train-loving kids can board the vintage cars, sit at the wheel of a city bus, and push through turnstiles. This is a history lesson and train-loving family fun all at the same time.
As New York City planted more and more concrete foundations and tall buildings in the late 1800s, The Brooklyn Botanic Garden was opened in 1911 to preserve important green space. It doesn't feel like you're in in bustling Brooklyn anymore when you explore this family-favorite attraction. There are peaceful gardens and conservatories focusing on the bonsai, plants of the desert, tropical beauties, and so much more. Families will really enjoy this Brooklyn natural treasure so check out the Botanic Garden's full itinerary for families and kids.
If you're in Prospect Park, walk through Grand Army Plaza, where you'll see the Soldier's and Sailors' Arch built to honor "The Defenders of the Union" during America's Civil War. Just one mile away is the Brooklyn Children's Museum, the first museum created just for kids back in 1899 (how cool is that?) It's chock-full of totally fun exhibits, art workshops, and multimedia activities for you and your kids to while away the hours. And maybe even learn a little something while they (and you!) are having fun.
Puppetworks Theater in Park Slope all began with the dream of a little boy in 3rd grade. Nicolas Coppola fell in love with marionettes and made it his life. The history alone of this theater is a sweet tale to tell your kids. Take in a puppet show here at this classic kid friendly thing to do in Brooklyn.
Mummy-holics should not miss the Brooklyn Museum, located in Prospect Park, and it's world-famous collection of Egyptian art and artifacts, including the Mummy Chamber. This grand, elegant art museum (second largest in New York) also has excellent collections of American paintings and contemporary art.
The Prospect Park Zoo is home to pandas, baboons, and kangaroos (oh, my!) — as well as a host of other animals. Feed the sea lions, chat with the zookeepers, and, you know, talk to the animals. Learn their languages. Maybe take an animal degree.
Don't feel like rowing? At Pier 1 in Brooklyn Bridge Park, pick up the NY Water Taxi and see the city sights by a checker-cab boat. Take the Hop On/Hop Off tour and cruise by Governor's Island (a colonial fort worth a visit itself – transfer from the Water Taxi to a seasonal ferry in Lower Manhattan), the Statue of Liberty, and even this place called Manhattan. Or get a combo Bike and Boat ticket, and pedal across the Brooklyn Bridge if the kids can handle it.
Best Food in Brooklyn
Enough with the spinning and the viewing and the bike riding. The kids are starving and your husband is whining. Walk under the Brooklyn Bridge and visit Grimaldi's Pizzeria, which some NYC-natives swear is the best pizza in town. You can't get slices here, but you can get pies with divinely crispy, smoky crusts, fired up in their very own coal-brick-oven. Dessert? That's easy.
After you've wiped all that yummy pizza sauce from your face, visit The Brooklyn Ice Cream Factory, located in a sweet, little ol' fireboat house on the Fulton Ferry Pier. (Somebody should write a children's book about that fireboat house. That's how cute it is.) The ice cream is made right there on the premises, with all-natural ingredients. Go ahead. Get two scoops. Be crazy. After all, you've just trekked all over Brooklyn with kids. That deserves a treat, right?
Wanna walk off that ice cream? If it's the weekend, you can walk over to Brooklyn Flea, a superfab weekend flea market that offers hundreds of vendors selling antiques, jewelry and watches, artisan crafts, vintage clothing—you name it, they got it. If all that browsing and shopping makes you peckish all over again, then sample some of the yummy—and very fresh—food available at the Flea, too. In warm weather, the Flea takes place outdoors along the waterfront in Williamsburg. In the wintertime, you'll find the Flea in the former Williamsburg Savings Bank, a gorgeous landmark building with the original bank vault still located on the lower level downstairs.
Spumoni Gardens is the place for pizza and all the Italian comfort food you could dream of. What is spumoni, you ask? It's a traditional Italian multi-colored gelato made with candied fruits and nuts inside. Yes, fruit. So it's healthy. And with the word garden in the name of this family friendly restaurant in Brooklyn, it's extra healthy. Just eat.
Elk Cafe has a sweet play area for the kids while you re-caffeinate and enjoy some fresh chef-inspired food.
Two Boots Pizza has two locations in Brooklyn and is growing across the country. But this colorful pizzeria keeps it real with fresh interesting menu offerings. Kids can even get in on the action rolling their own ball of dough while they wait. Now that's kid-friendly.
Sporting Events in Brooklyn
On a warm summer night, take the D, F, N or Q subway lines down to the last stop in Coney Island, and see the Brooklyn Cyclones play at MCU Park. Just make sure you stop at Nathan's onSurf Avenue for a hot dog and crinkle-cut fries beforehand. It's illegal not to eat a hot dog at Nathan's if you're in Coney. It just is.
Thank Jay-Z for bringing the NBA to Brooklyn! Take the subway to this major Brooklyn crossroads, Atlantic and Flatbush Avenues, and root for the home team, the Brooklyn Nets, at the Barclays Center. Jay-Z was part of the team that gave the borough its first major sports venue since the Dodgers' late, lamented Ebbets Field.
Best Hotels in Brooklyn for Kids
The Brooklyn is splurge worthy. A great central location, ultra-comfortable beds, great showers and bathrooms, on-site market, free Wi-Fi, and our favorite—cool exposed brick walls. Explain that to the kids.
The Henry Norman Hotel offers studios, suites, and even penthouses. Ruin your family for a few days with a once in a lifetime stay at this historic hotel. Maybe twice in a lifetime if your four year old's lofty career goal of "famous rock star" actually comes to fruition.
Franklin Guesthouse lets you imagine you're a local. That how homey the rooms are in this 30 room hotel. Don't get us wrong, they're not eat Cheetos and wipe your hands on the walls homey. Well-behaved kids and adults preferred.
Brooklyn Brewery
Last stop? The Brooklyn Brewery (go ahead, you've earned it).Visit on Sunday afternoons when it's completely kid-friendly. Free brewery tours are available almost every hour from noon – 6 p.m. (beermaking is scientific AND educational)! There's even a mini-foodfest in the brewery's Tasting Room, when some of Brooklyn's coolest chefs take over and host Smorgas Brewery. Which means that dinner is now officially taken care of, and you haven't had to cook once today! Your tummy — and your family — will thank you.
Now g'wan. Get outta here. Scram.
Still want more to do in Brooklyn with kids? Click for ten other mom approved spots!
MORE: Must-See Spots in New York City With Kids
Best Things to Do With Kids in Chicago
Make Boston Your Next Family Vacation Destination
This article was originally published on