Things To Do in Cleveland With Kids
by Samantha Rice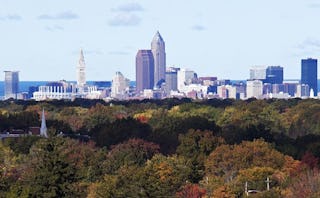 Cleveland is a great place to visit with kids. There are so many family-friendly events and attractions in Cleveland, you could spend days enjoying an educational and fun-filled trip. Cleveland is home to the movie "A Christmas Story" and you can take tours of the house in which the movie was filmed–and you won't shoot your eye out! Here are our top things to do in Cleveland with kids.
Best Places to Stay in Cleveland
Well, you're going to need somewhere kid friendly to sleep while in Cleveland, and lucky for you there are great options. If you're looking to add to your hotel reward points (free hotel room for another trip w out the kiddos?), the Historic Downtown is full of urban charm (with views!). More boutique your style? Then you'll appreciate the eclectic decor of the Metropolitan at the 9. If no hotel is kid-friendly enough for you, and you need your own house or apartment (mini kitchen? kids get their own bedroom?), Airbnb has some of our all-time favorite Cleveland abodes — from modern bungalows to spacious lofts to 5 bedroom homes.
How to Get Around Cleveland
If you didn't drive here in your own vehicle, you'll be needing a car. Hertz has pickup locations at the airport and also throughout town.
Best Experiences in Cleveland for Kids
In your former life, you probably enjoyed exploring cities at your leisure, but let's be realistic and accept that kids need things to do. Put down their tech devices (and yours) and plan a few special experiences that are unique to Cleveland. Everything from sunset boat cruises to waterfalls and wine tasting to cultural tours of the city can be booked beforehand.
If you are traveling with kids age 10 and older, the Rock and Roll Hall of Fame is not to be missed. When our children were younger we would just take them to visit a few of the exhibits near the ticketing area. So if you are in the area and don't have time, at least stop in to see the Beatles car and the cool guitars. But if you do have time, purchase admission for the entire tour. You will love seeing the costumes performers wore for shows, the list of inductees into the hall of fame and the many musical artifacts that rotate in and out of the museum. Open regularly from 10 a.m. to 5:30 p.m.; Wednesdays, 10 a.m. to 9 p.m. Summer hours are Sunday – Tuesday from 10 a.m. to 5:30 p.m.; Wednesday – Saturday from 9 a.m. to 9 p.m. Read reviews of the Rock and Roll Hall of Fame.
Within walking distance of the Rock and Roll Hall of Fame is the Great Lakes Science Center. If you are a member of your local science museum, you may be eligible for a reciprocal discount or even free admission. The science center has an amazing interactive section where you can literally lose your children for hours. There is also a fun playground for younger kids on the same floor. Be sure to bring a pair of socks for toddlers and youngsters enjoying this area. Afterward, you might enjoy a walk around the piers and the view of the lake. Cruises around Lake Erie are also offered during peak season. Open in the summer Monday- Saturday from 10 a.m. to 5 p.m.; Sunday, noon to 5 p.m. Open in the winter (September – April) Tuesday – Saturday from 10 a.m. to 5 p.m.; Sunday from noon to 5 p.m. Read reviews of Great Lakes Science Center.
The Cleveland Metroparks Zoo is a great place, particularly if you are a lover of elephants. The zoo's exhibit, African Elephant Crossing, includes a five-acre natural habitat for the elephants. New this year is "animal hot spots." These little exhibits are hosted by animal keepers and allow the kids to learn more about the animals and get a bit closer to them too. Before you leave, be sure to take a ride on the carousel. This zoo often offers reciprocal benefits: If you are a zoo member in your home city there is a good chance you can score a discount to the Cleveland Metroparks Zoo. If the weather is harsh (and sometimes it is) you can always visit the aquarium. It's a great place to discover, see and learn more about aquatic life. Open daily (including on weekends) from 10 a.m. to 5 p.m. Read reviews of Cleveland Metroparks Zoo.
Cleveland's Museum of Art has a nice collection of contemporary, Egyptian and impressionist art. This place is perfect for the art enthusiast in your family, with tons of exhibitions from every art period. The impressionist collection is really incredible. The best part? They offer free general admission. Open Tuesdays, Thursdays, Saturdays and Sunday from 10 a.m. to 5 p.m.; Wednesdays and Fridays from 10 a.m. to 9 p.m.; and closed on Mondays. Read reviews of the Cleveland Museum of Art.
The Cleveland Museum of Natural History is another museum that offers reciprocal benefits. So if you are a member of a history or science museum at home, there is a good chance you can gain free entrance to the museum. The nature exhibit that places replicas of animals in their natural environment is really awesome. In the basement you will find an interactive area for kids to explore and craft with museum staff. Admission also includes a visit to the on-site planetarium. Open Monday through Saturday from 10 a.m. to 5 p.m.; Wednesday from 10 a.m. to 10 p.m. and Sunday from noon to 5 p.m. Read reviews of Cleveland Museum of Natural History.
Lake Metropark Farmpark is about 20 minutes south of Cleveland in Kirtland, Ohio. It is definitely worth the drive. Kids have the opportunity to explore life on a real farm. It is a highly interactive working farm that is quite hands-on. They have a dairy parlor, wagon rides and as much exposure to farm animals you can possibly have. It is the perfect combination of agriculture, science and fun in a country setting. Admission is affordably-priced and they offer an AAA discount. Open Tuesday – Sunday from 9 a.m. to 5 p.m.; closed on Mondays. Read reviews of Lake Metroparks Farmpark.
7. Cleveland Sports
Cleveland is home to the Cleveland Browns, Cleveland Cavaliers and the Cleveland Indians. If you have sports enthusiasts, you can find a game most any time of the year. We've enjoyed a few Indians games in the summer at Progressive Fields!
The Botanical Garden and Children's Garden is a perfect spot to relax and take in the beauty of nature. Your kids will enjoy the treehouse, watching and sometimes touching the butterflies, visiting the Eleanor Armstrong Smith Glasshouse and of course, the lily pond. In the summer, kids can splash around the fountain. They offer discount admissions on some holidays as well. It is always free for active military and military veterans. Open Tuesday, Thursday, Friday and Saturday from 10 a.m. to 5 p.m.; Wednesday from 10 a.m. to 9 p.m.; closed on Sunday. Read reviews of the Cleveland Botanical Garden.
We love Cleveland's Little Italy for adult date night and family dinners. The restaurant selection is plentiful and ranges from inexpensive, old-school mom and pops to fine dining. You can find some of the best authentic Italian cuisine in the city within this lovely village. You absolutely cannot visit Little Italy without stopping by Presti's Bakery for sinful Italian desserts and cookies and a decadent cup of coffee. Make sure you purchase some extra for the trip home! Read reviews of Cleveland's Historic Little Italy.
If you're a foodie, or a fan of the Food Network, you can't miss Barberton, Ohio. Just about a half-hour away from Cleveland, you will find the national capital of chicken. Barberton is home to one of the Food Network challenges, "Food Feuds." Two restaurants, Belgrade's and WhiteHouse, competed in the challenge for best "fried" chicken in Barberton. Serbian-style chicken is moist, delicious and must be accompanied by coleslaw with a vinegar base and "hot sauce." Hot sauce is really just a tomato-based, mildly spicy rice complimenting the flavorful chicken. Take a trip to Barberton and you too can be the judge of the best chicken in the nation. Spoiler alert: Belgrade's won the challenge!
The house from A Christmas Story opens year-round for tours and even overnight stays, so kids who get a giggle out of the movie every December will be thrilled by a visit. There's even a museum and gift shop dedicated to the movie across the street.
Best Things to Pack For a Trip to Cleveland
Before you jet off to the rock and roll capital, pop these super classic Rayban Wayfarers into your carry-on—they'll keep you looking cool, but not like, too cool. Traveling with little ones? You'll obvi need to stock up on fun trip activities, like these nostalgia-inducing road trip bingo cards. A cool crossbody purse helps keep your hands free for when you don't want to lug a giant bag out to dinner, but it also tucks nicely into your tote for all-day adventuring. Slide into Allbirds' Tree Breezers flats for the ultimate in sustainable comfort, and, bonus, they pack up small. A travel-friendly first-aid kit is super handy for the odd boo-boo when you're in and out of hotel rooms, just in case. Don't forget to load up your Kindle Fire tablet with the latest hot read for your book club back home (along with all your kiddos' fave games and a few shows for the long haul, too). Store the kindle in a lightweight backpack and give the kids their own mini-backpack so they can be in charge of their own stuff (yes, we said that).
Although we only recommend picks we really love, we may earn a commission on purchases made through links from our site.
MORE: You MUST Read This Before Traveling With Kids
Must-See Spots in Cincinnati For Your Next Family Vacation
Don't Leave Louisville Without Checking Out These Family-Friendly Places
This article was originally published on