Things To Do in Greenville With Kids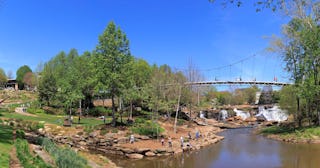 Getty Images
Greenville is packed with family attractions that will keep you moving all day long. There's baseball, zoos, waterfalls, music, and tons of history. Greenville provides affordable family fun and Southern hospitality.
There's comfort food and creamy ice cream around every corner. Here are our suggestions of how to walk off all those calories and have tons of family fun on your trip to Greenville.
This family friendly baseball stadium was modeled after Fenway Park, home of the Boston Red Sox. It's a classic choice for an all-American family activity of cheering on the local team, The Greenville Drive, with hot dogs, ice cream, and singing Take Me Out The Ballgame. There's a Chick-fil-A right inside this minor league team's stadium. Because Waffle Fries. Parking is only $5 and ticket prices start at $18. Read reviews of Fluor Field.
Visit the 7th largest children's museum in the country right here in Greenville. The museum has three floors with 19 exhibits of hands-on play for math, science, art, and health & wellness. Imagination is the priority here. There's music making and even a play T.V. station for your family to create your own newscast. Go into outer space, go food shopping, dress up in costumes, and get messy with finger painting fun. Pro-tip: bring a change of clothes. Easily spend about three to four hours at this family attraction to see everything. Designed for kids from up to 12 years old. Open Monday-Saturday, 9 a.m. to 5 p.m., Sunday. 11 a.m. to 5 p.m. Admission: $9 for kids 2-15; kids under 1 are free; $10 for adults. Read reviews of The Children's Museum of Upstate.
The Greenville County Museum of Art is considered the top museum of the South. Your budding artist will love recognizing impressive paintings from American artists like Jasper Johns and Andrew Wyeth. Historical portraits and puzzling contemporary abstract art make this a fun family activity. Check their schedule for special traveling exhibits or events. And the best part is Admission is free. Open Wednesday – Saturday, 10 a.m. to 5 p.m.; Sunday 1 p.m. to 5 p.m. Read reviews of Greenville County Museum of Art.
This smaller zoo is not exhausting for little legs. There are playful monkeys, big cats, red pandas, and their star residents, the giraffes. Prepare for your visit by gathering around the computer and watching the giraffe cam for an hour or five. It's addictive. Playgrounds throughout the zoo provide active breaks from the adorable wildlife. Open 9 a.m. to 4:15 p.m. daily. The zoo closes at 5 p.m. Admission $9.75 for adults; $6.50 for kids 3-12,; kids under 2 are free. Read reviews of the Greenville Zoo.
Bounce off the walls, floors, and ceilings at this family attraction. Mechanical bull, laser maze, obstacle course, foam pits, rock climbing wall, a dodgeball court, basketball on trampolines, ninja courses, extreme dodgeball, drop from a trapeze onto bouncy foam…could this place be any more fun? Perfect for families with toddlers too because of their large designated safe area and special Toddler Times for ages six and under. Beg the kids to take a break at the onsite café for pizza, corn dogs, and a cold Pepsi. Monthly memberships are the best deal here if you're local. But to play hourly prices start at $16 per hour. Open Monday-Thursday, 10 a.m. to 9 p.m., Friday-Saturday 10 a.m. to 11 p.m., Sunday 1 p.m. to 9 p.m. Read reviews of Big Air Greenville.
This oasis in the center of Greenville has picturesque foot bridges, water fountains, plenty of benches, and kids love the friendly ducks that work their cuteness for bread and seeds. True to the park's name, the waterfall is a beautiful relaxing place to spend some family time in nature not too far off the beaten path. Open from 7 a.m. to 9 p.m. Admission is free. Read reviews of Falls Park On The Reedy.
This 19.9 mile multi-use rail trail in Greenville follows the bed of a former railroad that had been nicknamed after the indigenous swamp rabbit. Despite the name, there's no tram or train anymore. Bikes and feet are the way to get around this easy hiking trail for families. The views of the lake keep it tranquil as your kids try out all the fitness activities placed along the trail. Demonstrate your crazy mom strength on the pull-up bars. Or not. Your kids will love you no matter what.
Bring your kids to this beautiful park for Fall hawk migration and the Spring songbird migration. Get the whole family binoculars and see how many of the 167 species of birds you can check off the park's checklist. With 12 different trails of varied length and difficulty, this a great park to choose the best path for your family. Pro tip: Try to avoid carrying heavy four-year-old kids whenever possible. Especially in the wilderness. Open daily 9 a.m. to 9 p.m. with trails closing one hour before dark. Access to trails is $2 for adults. Age 15 and under are free. Reviews of Caesars Head State Park.
Dedicated to accurately portraying the history of The American Civil War. Your young and old history buffs will be fascinated by this museum's artifacts and displays showing us what life was like at home and on the battlefields in the South during wartime. Open Monday and Wednesday, 10 a.m. to 3 p.m.; Friday, 1 p.m. to 9 p.m.; Saturday 10 a.m. to 5 p.m.; Sunday 1 p.m. to 5p.m. Admission is free but donations accepted. Reviews of the Museum & Library Of Confederate History
Connect with the history of The Carolinas with a visit here. The museum, part of Furman University, also offers community and family events like movie nights and character meet 'n greets, like Alice in Wonderland, Dr. Seuss, and Thomas the Train. Bring the little ones here for Saturday toddler story time. Open Monday – Saturday 10 a.m. to 5 p.m.; Sunday, 1 p.m. to 5 p.m. Admission, $10 for adults; $8 for kids; under 4 are free. Read reviews of the Upcountry History Museum.
Bring your little leaguers to the actual home that Shoeless Joe Jackson lived in until his death in 1951. In 2006, the house was moved three miles to right across from Fluor Field. This non-profit museum is filled with records, artifacts, photographs, film and other items of interest relating to the historic life and baseball career of Shoeless Joe Jackson. Admission is free with donations welcome. Volunteers run this little gem of a museum and love to talk baseball with all their visitors, young and old. Bring cash to pick up a souvenir in the gift shop. Open Saturdays only from 10 a.m. to 2 p.m. Read reviews of the Shoeless Joe Jackson Museum.
Your kids will learn about the principles of flume mining and then get set loose to find their own "gems" in this man made river of jewels. Lots of dirt, buckets, small shovels, and screens fro filtering, this is a fun family activity. The kids stay busy and get dirty and you get to look at jewlery. What more could you want in a fun family activity? Prices start at $9 for the kiddie bucket. Open Monday -Thursday, 10 a.m. to 6 p.m.; Friday – Saturday, 10 a.m. to 9 p.m.; Sunday 10 a.m. to 7 p.m. Read reviews of Greenville Gemstone Mine.
This museum will change the way your whole family sees music lessons. Your kids will look at piano practice as anything but a whiny chore after a visit to the home of the world-famous Carolina Clavier Collection. Your family will see more than 40 English, European, and American pianos and harpsichords dating from 1570 to 1845.
Check their calendar for up-close-and-personal concerts, demonstrations, and visiting artists. We're sad we gave up on our violin lessons after seeing Pat Benatar rock out. Don't let your kids make the same mistake. Open Tuesday – Saturday, 10 a.m. to 5 p.m.; Sunday, 1 p.m. to 5 p.m.. Admission $7 for adults, $4 ages 6-18, Under 6 are free. Read reviews of Carolina Music Museum.
Best Restaurants in Greenville for Kids
Kids under 12 have tons of choices off the kids menu and will only cost you $3.50 per kids meal. This is a classic southern "meat plus two sides" place so the whole family will eat well here. Hours: Monday – Saturday, 11 a.m. – 9 p.m.; Sunday 11 a.m. – 3 p.m. Read reviews of Southern Fried Green Tomatos.
Make the half-hour drive from Greenville to this family-friendly restaurant. Their menu is simple. Step 1. choose white or dark. Step 2. choose Mild, Hot, Southern, or Grilled. Add some baked beans, mac-n-cheese, or fried grits. We didn't even know you could fry a grit! There's lots more choices on this local favorite of family-friendly restaurants. Kids eat free on Monday nights. Open Monday – Thursday, 11 a.m. to 8 p.m.; Friday-Saturday, 11 a.m. to 9 p.m.; closed Sunday. Read reviews of Ira's Chicken.
This sandwich shop has been around since 1941. Harold "Groucho" Miller came to South Carolina after spending his early years in a Philadelphia orphanage where he loved to cook and dream up recipes. His dreams became reality when he opened his first deli. Named after his strong resemblance to Groucho Marx, Grouchos' is know for inventive sandwich and salad combinations and homemade dressings and dipping sauces, kids love all the fun atmosphere, good food, and moms love the meltdown avoiding fast service. Groucho's has since grown to a popular chain of restaurants. Don't miss visiting a Groucho's in South Carolina. Open every day 11 a.m. to 8 p.m. Read reviews of Groucho's Deli.
Fresh-brewed coffee and made-from-scratch desserts beckon your family to this kid-friendly restaurant. This is no high school cafeteria. There are no mean girls to stare you down as you choose from 13 different entrées, sides, and desserts. Kids under 10 eat for only $.99! Open daily 11 a.m. to 8 p.m. Read reviews of S & S Cafeteria
[inline-ad]
Best Hotels in Greenville for Kids
Ruth Chris Steak House and a bar in the lobby? Check. Indoor pool? Check. Friendly people to help with weird requests? Check. The Crowne Plaza is a great choice for your family vacation. Read reviews of The Crowne Plaza Greenville
Free breakfast buffets make everyone happy. Your kids can enjoy pancake after pancake while you proudly eat an entire plate of bacon. Swim in the seasonal outdoor pool after a day of sightseeing in Greenville, South Carolina. Read reviews of La Quinta Inn Greenville.
The great staff here at this hotel will help your family get settled quickly and without fuss. There are great views of Falls Park from your room. After you fill up on the free breakfast, jump on a free trolley that stops outside to start your family sightseeing in Greenville. Read reviews of this Hampton Inn.
This hotel loves families. Free soda and popcorn all day long. Free breakfast every morning and free appetizers and cold drinks every night at 5:30 p.m. It's a kid friendly evening social. Swim in the indoor or outdoor pool. Soak your muscles in the whirlpool. Read these reviews of The Drury Inn.
Get a little fancy with your family in this downtown hotel. Start your morning with breakfast at the hotel's restaurant, Spoonbread. Send your husband up to the room with the kids and have a drink in the Lobby Lounge. Did someone say 24-hour room service? Go ahead. Be a rock star on your Greenville family vacation. Trashing the room, however, is not recommended. Read the reviews of The Westin Poinsett.
MORE: Head To Hilton Head With The Kids
Take A Birmingham Family Vacation
This article was originally published on