Things to Do in Irvine With Kids
by Evan Levy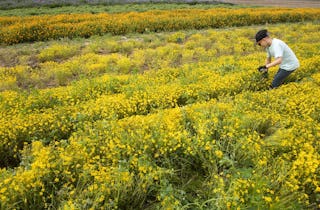 Getty Images
Looking for ways to get the most out of Irvine, CA, with kids? Our guide, below, has suggestions for family-friendly ways to take advantage of the gorgeous California city. Here are the best things to do in Irvine with kids.
Family-Friendly Activities in Irvine, CA
You may have trouble getting your kids to go to an actual dentist, but they'll probably be more than happy to check out the pretend one at the Pretend City Children's Museum. They can also frequent a make-believe café, grocery store, doctor's office, and more, as well as the Imagination Playground, an open-ended play and building area.
Dedicated to California art of the Impressionist period, the Irvine Museum offers special exhibitions that highlight California's history and outdoor spaces. Part of the University of California at Irvine, it's a nice pit stop to get into a California frame of mind (and look at the gorgeous light in those paintings).
Looking for some old-school family fun? Boomers! (yes, the exclamation point is mandatory) has mini golf and Go-Karts, plus bumper boats and some country fair-type rides. There's some new-school fun as well—check out the VR zone, where you can go even older school and have a battle in a castle, or venture into a time machine and avoid being eaten by a giant beast.
If you take a farm tour around Tanaka Farms, it will probably include not just a wagon ride, but a visit with the flock of rescue chickens, and there's your holiday card. The farm also offers workshops, pick your own fruits and veggies (seasonal, of course, but it's never a bad idea to go when the strawberries are ripe) and harvest festivals throughout the year.
Is it a café? A play space? A spot for afternoon tea? Yes. Irvine's Playland Café offers a venue for kids to climb, explore, and blow off steam while parents read, socialize or just have a steaming cup of tea. While tea is the main attraction here, kids can also munch on chicken or vegan nuggets, as well as pizza and other savory (and sweet) treats. They also offer birthday parties.
Family-Friendly Restaurants in Irvine, CA
The dog in the name of the Lazy Dog Restaurant & Bar may be lazy, but yours is allowed to show a tiny bit more energy—dogs are allowed on the outside patio (if their humans follow the rules) and there's even a menu for your furry friends. Humans get to choose dishes made from locally-sourced ingredients, like an Heirloom Bean Salad, a Pork Belly BLT, and a riff on pasta—spaghetti squash and beetballs.
If it's brunch you're after, it's brunch you'll find (on the weekend) at Two Left Forks. Go for an omelet, innovative Eggs Benedict, or entrees like pancakes, tacos, or burgers. There's plenty of stuff to entice the younger noshers. During the week, snag a salad or a vegetarian entree—and leave room for dessert (or, perhaps, a dessert cocktail).
Everything at Urban Plates is made from scratch everyday. It's fast-ish food, in the way that the fast casual Sweet Green or other healthy, more vegetarian-oriented chains are. Choose from salads like Asian Chicken or Grilled Steak, with sides ranging from roasted Brussels sprouts to beet salad. Plenty of gluten-free options are available. And check out their natural sodas and organic lemonade.
If you're looking for a quick snack or afternoon pick me up, stop by the 85 Degrees Bakery Cafe. Kids will probably love the cheese dog—soft bread wrapped around a hot dog with two kinds of cheese. The Dong-Po pastry has a filling that includes pork fu, mochi, and red bean paste. Try a smoothie for a healthier option—or live a little and just gather your family round and dig into a brioche loaf or some cream puffs.
It's pizza night! Old-school pizza is the order of the day (literally) at Flippin' Pizza in Irvine. Many of the pizzas are named after their New York roots, like the Bronx, with nine toppings including pepperoni, sausage, and olives. You could opt for a calzone (you can even create your own), one of the salads, and the house-made chocolate chip cookies for dessert.
Family-Friendly Hotels in Irvine, CA
Not only is the breakfast at the Embassy Suites Irvine-Orange County Airport free, but it's made to order, meaning you can opt for hot food like omelets. They offer kid-friendly amenities like a children's menu, and won't you be glad when it's time to leave that you're so close the airport?
At the Hotel Irvine, you can stop by the Marketplace, grab a picnic bag, and for $30, fill it with all the goodies you need for an outdoor feast. Parents: this includes wine. They also offer summer movie nights on their lawn, a pool with cabanas, and a fitness center. Look into the family-friendly activities (Jenga on the lawn, anyone?) plus special packages and deals.
The Irvine Marriott offers rooms with views of the city, an outdoor pool, several restaurants and bars, and a shuttle to the airport. Plus, this being California, electric-car charging stations. You're close to lots of outdoor activities (hiking, boating, jet-skiing, and of course, Disneyland), plus lots of indoor ones, as well, from shopping to the Discovery Science Center.
Perhaps a dip in the heated pool? Check. Need to do some work? The AC library has computers. The AC Hotel Irvine also has a 24-hour convenience store, several on-site restaurants (or, if they don't appeal to you, local restaurant delivery), and a beauty salon. Rooms are sleek and modern, and you're close to pretty much all the local attractions.
The newish (built in 2017) Hyatt House Irvine/John Wayne airport is set up like series of mini apartments: many of them have full kitchens, removing the need to eat out for every meal. There's also a fitness center and heated pool –but if you're looking for those California vibes, you're just a short drive from the beach.
Family-Friendly Outdoor Activities in Irvine, CA
At the Orange County Great Park, you'll find a sports complex (volleyball, baseball, soccer, more), a playground, and a public ice facility. Don't miss: the vintage-inspired carousel, and the bright orange Great Park balloon, which can hold up to 30 passengers and soar up to 400 feet above the ground, and the Farm & Food Lab, an interactive outdoor classroom.
Adventure Playground has a tree house, Sensory Garden, slides, sand pits, and climbing poles and stumps. Plus there's an art wall and a kids fort zone (a fort zone! How cool is that?) And if kids just feel like…playing, they can romp in the meadows or play in the mud and just…be kids.
The Irvine Ranch is less ranch and more spectacular acres of rolling land, with a variety of habitats and different geological features. Free activities are available, from hiking to weeding, and you can even get tips on hiking with kids. Bring a camera—you'll see some spectacular vistas.
Bring binoculars to the IRWD San Joaquin Marsh & Wildlife Sanctuary it has 300 acres and 10 miles of trails, which are wheelchair accessible. Plus you have the chance to see more than a hundred kinds of birds, from sandpipers to herons and egrets—look for the nesting boxes scattered around. Not a bird person? You will be by the time you leave.
At Heritage Community Park, you can reserve a craft room or a kitchen, check out one of the three pools, barbecue, have a picnic, and take advantage of one of the many sports fields. Not to mention the playground, splash pad, and duck pond, because sometimes you just need to sit quietly and watch some ducks splash around.
Outdoors Activities for Kids in Irvine
Irvine, CA, is the place to go outside. In addition to our suggestions, above, the 160-acre Irvine Regional Park offers a park (Orange County's first—it dates back to 1897) surrounded by foothills. Look for the children's garden trail. Mason Regional Park offers playgrounds, hiking and biking trails, and a nine-acre lake. And at the Turtle Rock Nature Center, scope out the self-guided trail walk.
MORE: Why I Couldn't Enjoy My Kid Free Vacation
Here's How To Survive Airplane Travel With Kids
How We Lived A Nomadic Lifestyle For A Year
This article was originally published on