Things To Do In Miami With Kids
by Ashley McCann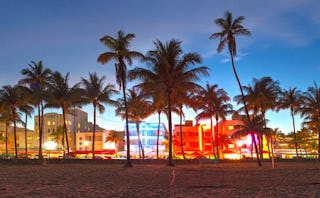 Imagine yourself basking in the sun, mojito in hand, bronzed and bikini-clad, looking forward to your romantic late-night dinner at an upscale outdoor cafe, the swaying palms framing the moon as you dine among the rich and famous. Hilarious, right? That's not your Miami, parents. You're in a city renowned for its sex appeal and glamour…but with people that still need help wiping their butts. Fear not: Scary Mommy is no stranger to providing the best travel guides when it comes to vacationing with kids.
Miami is actually very family-friendly and you probably have more options than you realize. Be it inside and outside, technological or natural, educational or entertaining… this city has plenty to keep the whole family happy. Here are our recommendations for the best things to do in Miami with kids.
Best Places to Stay in Miami
The hotel choices, even with kids, is practically endless in South Beach and the surrounding areas. If you're looking to add to your hotel reward points (free hotel room for another trip w out the kiddos?), the Blue Moon Hotel is right on Collins Ave and the Winter Haven is boutique-style front and center on Ocean Drive. If you want a big hotel with a big view and a big pool— the Loews Miami Beach is the one.
Now if you want to go crazy, we mean this in a good way, take the plunge and checkout the eco-focused 1 Hotel South Beach. Grab lounge chairs at one of the four (!) pools and try to read your book while the kids splash around. If you have a chance to drop the kids at Seedlings (their day camp for nature-focused adventures), head to the Bamford Haybarn Spa for the Himalayan Salt Stone Massage.
If no hotel is kid-friendly enough for you, and you need your own house or apartment (mini kitchen? kids get their own bedroom?), Airbnb has some of our all-time favorite Miami abodes — from a condo with swimming pool to a 3 bedroom townhouse to a 16 person home with rooftop terrace.
How to Get Around Miami
You can certainly walk around Miami, especially if you're staying in the South Beach area, but if you're looking to visit the beaches off the main strip (please say you are), you'll be needing a car. Hertz has pickup locations at the airport and also throughout town.
Best Experiences in Miami for Kids
We know you used to enjoy drinking cocktails while sunning on the beach, but let's be realistic and accept that you're with kids and kids need things to do. Put down their tech devices (and yours) and plan a few special experiences that are unique to Miami. Everything from hiring a private yacht to banana boat rides in the bay to parasailing can be booked beforehand.
Attractions in Miami for Kids
Visit Zoo Miami. Formerly known as the Miami Metro Zoo, Zoo Miami is enormous, houses over 700 animals, offers a wide variety of exhibits and events and is a good value for the price. You're going to need a stroller for any new or reluctant walkers, or you can rent a Safari Cycle, which is like a bike built for 5-8 people — make sure you really like pedaling if you go this route. It's one of those things that seems like a fun idea until you've been hauling your kids around for an hour and you realize you've been tricked into exercise.
There's also a monorail or tram tour you can buy tickets for, if you're not up for the amount of walking it takes to cover the park. During your visit you can feed giraffes, parrots, pelicans and rhinos, enjoy a camel ride, observe animals in natural looking habitats, play in the splash pad playground and learn a lot about nature and the environment along the way. Bring sunscreen; this will be a long, and likely hot, day.
Take a trip to Monkey Jungle. It can seem pricey for a short day at what looks like a tacky tourist attraction from its exterior, but monkeys are always a sure-fire hit with little kids — I guess creatures that like to play in their own poop have to stick together that way.
The Monkey Jungle advertises that the humans are in cages while the monkeys roam mostly free. The cages are actually large, nicely landscaped, screen and wire corridors that serve as walkways among the open monkey habitat, so the whole "being caged" thing isn't as terrifying as it sounds. You can purchase raisins for $.75 to drop into a little bucket on a chain, which the monkeys pull up with their adorable little monkey hands for a snack. It is truly delightful! For a price, you can also take a guided 45-minute tour where you get to hold and feed the monkeys. That's probably your best option for amazing Instagram pictures. And memories, or whatever. There are also primate shows to watch, but that's hit or miss since the primates are free to decide that they aren't doing a show at the time you'd like to see them do a show. So, monkeys are indeed a lot like kids.
Venetian Pool, in the City of Coral Gables, is a great place to cool off on a hot day, and just an all-around fabulous thing to do in Miami with kids. Back from the beach and cringing at the thought of being hot, sticky from salt, and having everything covered in sand again? Yeah, the beach isn't for everyone. Luckily, Coral Gables has what TripAdvisor describes as the most beautiful municipal pool in the world. Kids must be 3 years old or 38″ tall to enter, but this historical limestone quarry turned tropical oasis is a treat. This natural-looking setting has a spring-fed (read: cold) pool lined with palm trees, waterfall rock formations and a cave, and also has lifeguards, showers, lockers and a cafe. Again, arrive early to snag a spot in the parking lot and at a picnic table.
Pinecrest Gardens is another great family-friendly place to visit. I know, I know, the word "gardens" doesn't exactly sound exciting for kids, but Miami's tropical locale is the perfect host for nature at its most magnificent, and kids like nature…and splash pads. Pinecrest Gardens is the former location of Parrot Jungle but is now a park with lush landscaping, koi ponds, a playground, a petting zoo, a water play area, and regular events like jazz concerts, farmer's markets and outdoor movie nights. Admission is $3 for adults and $2 for children ages 2-17, or $3 with the splash 'n play pass for kids 2-12, and come on, you're going to need the splash 'n play pass. Bring bathing suits for the kids!
Museums are nice, air-conditioned ways to keep the kids busy. So, you're hot, sweaty and tired of the frizzy rat's nest the humidity has made of your hair. That's Miami! Seek refuge under the guise of education with a trip to one of Miami's museums. The Miami Children's Museum ($18 admission, $14 for Florida residents, children under 1 free) received a TripAdvisor award of excellence, but local parents report that it's a bit shabby and exhibits are missing pieces —that's the cost of having an all-child clientele, and, let's face it, your kids won't care. Older children may get bored quickly, but this should keep younger kids busy for quite a while and you can enjoy some air-conditioning.
The Patricia and Philip Frost Museum of Science ($14.95 for adults and $10.95 for kids 3-12) is a better choice for families with older kids, featuring interactive exhibits about nature, climate, physics and more, as well as a planetarium and wildlife center.
When you're ready to get outside again, hop on the Miami trolley. It's a convenient way to get around and it's free! The trolleys run until 11 p.m. and travel to and from many major Miami destinations. You can also track the trolley in real time on their website to estimate your wait. This is really an easy way to get around and avoid traffic and kids usually love public transportation anyway so you can count it as part of the adventure.
Miami Seaquarium is another great thing to do in Miami with kids. It's a little dated, and may seem unimpressive when compared to mega aquariums like the one that resides in Atlanta, but if you tell your husband you're going to see Miami dolphins, it wouldn't be a lie…just probably not the team of Dolphins he may prefer. Admission is $41.95 for adults and $31.95 for kids 3-9 — I was about to point out how lucky parents of the two-and-under crowd are in terms of traveling costs and then I remembered that they have to travel with toddlers, so it's kind of a wash. The most glowing reviews appear to come from people who paid extra for experiences that include swimming with dolphins or seals, or walking on the bottom of the tropical reef in a dive helmet. With regular admission you can enjoy a variety of shows, touch stingrays, meet manatees, watch sharks and crocodiles, play on a pirate-themed playground and more.
Best Beaches in Miami
You're in Miami — of course you want to go to the beach! Don't worry, you have family-friendly options. Matheson Hammock Park comes highly recommended by real Miami moms and features bike trails, picnic tables, lifeguards and lots of shade, as well as an unusual man-made atoll pool with calm waters. There's also a restaurant on site, so you don't have to pack a picnic.
Crandon Park Beach on the barrier island of Key Biscayne is another fun possibility. Secluded and serene, this beautiful beach is a tucked-away treasure with a nearby amusement center boasting a carousel and roller rink among its playgrounds, splash pads and snack stands, as well as a nature center and gardens. Arrive early to avoid parking drama.
Duck Tours South Beach are one way to experience the beach in a different kind of environment. If you're interested in an unconventional way to see more of Miami, Duck Tours South Beach offers amphibious vehicles for a quirky part land/part water tour that lasts 90 minutes. Prices are $36 per adult, $18 for ages 4-12 and $5 for under 3. See Biscayne Bay, learn about Miami history and get a peek at celebrity homes during this odd and informative outing.
During your Miami vacation, you probably have a better chance of paying to see wildlife rather than the wild life, but Miami can be exciting even if you're traveling with children. For up-to-date information on fun things around town, check the Munchkin Fun Miami calendar. Pack the sunscreen, give up on the thought of frizz-free hair and start looking forward to that mojito, my friends.
Finally, if you're hungry but tired of watching your kids, Cool de Sac is a fantastic choice for both kids and parents alike. It's clean, it's safe, air-conditioned, feels relatively calm (compared to mad houses like Chuck E. Cheese) and this restaurant/play place combo has a menu of healthy and delicious foods that even adults can appreciate. Kids can dress up, play with LEGOs or Mac computers, climb, do art, build with magnets and gears and more…while adults eat. Mostly by themselves. With real food and even a glass of wine. Try the sweet potato fries.
What to Pack for a Trip to Miami
Sunshine and humidity to spare means you'll want to include plenty of weather-appropriate picks. Number one on the packing list, of course, is sunscreen! Supergoop! Sunnyscreen for the kids and tinted sunscreen for you— both with an SPF of at least 30, as recommended by dermatologists. If you're prone to frizz, Florida humidity is not your friend–but a good leave-in conditioner to tame your frizz could be! Since you're going to be near the water and will want to capture all the moments, best come prepared with a waterproof phone case (seriously, few things ruin a trip faster than a broken phone, amirite?)–and a chic as hell swimsuit cover-up (we heart a cover-up that can double as a top with jeans!). Since Florida can be muggy and buggy, protect the whole fam from hangry mosquitoes with repellant bug bracelets–and protect your sanity while in transit (or at a restaurant, or anywhere you need to keep your kids occupied–no judgment) with a tablet.Taking time off of electronics (no, really?), we love Mystery Mosaics, one for each kid.
Although we only recommend picks we really love, we may earn a commission on purchases made through links from our site.
MORE: Top Places to Visit in Tampa With Toddlers
Best Things to Do in LA With Kids
Spots to See in Santa Fe With Family
This article was originally published on