Things To Do in Naples With Kids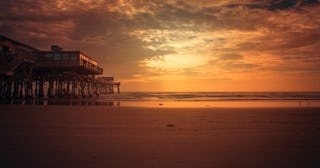 James Cheney/Pexels
Looking for the quintessential Floridian vacation spot? Naples, Florida, is a great place to bring the family. The city is located on the Gulf of Mexico (which means calmer waters) and has plenty of attractions and activities, along with gorgeous, white sandy beaches. Here are a few fun things to do in Naples with kids.
Family-Friendly Attractions in Naples
When you find yourself faced with an afternoon Florida thunderstorm, this is a great attraction to visit with the kids. It calls itself a "brain-building powerhouse," and hence has a ton of hands-on galleries and exhibitions. Open Monday-Saturday, 10 a.m. to 5 p.m. (closed Wednesday). Open Sunday, 11 a.m. to 4 p.m. Free, Ages 1 and under. $12, Ages 1+. $10, Adults. Read reviews of the Golisano Children's Museum of Naples.
Watch Alligators get hand-fed and walk through the zoo's historic tropical garden, all in the same day! Open Monday-Sunday, 9 a.m. to 5 p.m. Free, ages 2 and under. $14.95, ages 3-12. $22.95, ages 13 to 64. $21.95, adults 65+. Read reviews of the Naples Zoo at Caribbean Gardens.
Polly want a cracker? Here it in real life at this fun attraction. It's a non-profit organization that takes care of Parrots, highly intelligent birds with lifespans of up to 100 years. Your kids will be amazed. Open Thursday to Sunday, tours begin at 11 a.m. Free, donations appreciated. Read reviews of the Bird Gardens of Naples.
Your family can learn about conservation of plants and wildlife through hands-on experiences in the Dalton Discover Center and the Little Explorer Play Zone. The conservancy also has fun electric boat tours. You could realistically spend a whole day, or at least a full afternoon, here. Open Monday to Saturday, 10 a.m. to 4 p.m. Admission: free, ages 2 and under. $9.95, ages 3 to 11. $14.95, adults. Read reviews of the Conservancy of Southwest Florida.
Family-Friendly Restaurants in Naples
For a classic fish and chips dinner, you have to try this restaurant. It has bright pink walls and a casual Floridian atmosphere. Open Monday-Saturday, 11:30 a.m. to 9 p.m. Read reviews of Grouper & Chips.
If you're craving a large, juicy cheeseburger, this is the place for you. In 2018, it won #2 best burger joint in the nation on TripAdvisor — a huge accolade that speaks for itself. Open Monday-Friday, 11 a.m. to 9 pm.; Saturday, 11 a.m. to 10 p.m.; Sunday, noon to 8 p.m. Read reviews of Brooks Gourmet Burgers & Dogs.
This is a great breakfast and brunch spot with American classics like Eggs Benedict and buttermilk pancakes. You might want to order the Chunky Monkey Waffle Platter, which has macadamia nuts, chocolate chips, coconut and pineapple, for the whole family. Open Monday-Friday, 7:30 a.m. to 3 p.m. Read reviews of E.J.'s Bayfront Cafe.
On a hot Florida night, nothing is better than a dish of creamy gelato from Cesibon. The shop is closed for the summer, but if you're visiting during off-season, you can grab something fruity or decadent, depending on your taste. Open Tuesday-Saturday, 1 to 8 p.m.; Sunday, 1 to 9 p.m. Read reviews of Cesibon.
Family-Friendly Hotels in Naples
With a selection of suites and rooms with gorgeous ocean views, you will find the perfect accommodation here. The amenities—including the pool—are all super modern. Read reviews of the Naples Grande Beach Resort.
This is a more budget-friendly option for a family vacation. Its conveniently located if you're traveling by car and is newly renovated. Read reviews of the Holiday Inn Express and Suites Naples.
This option offers a luxurious resort experience with plenty of fun for the kids. It has four waterslides, and a sweeping lazy river that your family won't want to leave. Read reviews of the Hyatt Regency Coconut Point Resort and Spa.
This hotel is consistently on the lists of best hotels in Florida. From the hotel, you can rent bikes and arrange water sport activities. It also has activities like scavenger hunts for kids. Read reviews of the Edgewater Beach Hotel.
Best Outdoor Activities in Naples for Kids
Ever wanted to see an alligator up close? This is your chance. These tours are fun ways to explore the everglades and introduce your kids to a unique ecosystem with unique animals. Hours and prices vary based on tour. Read reviews of Wooten's Everglades Airboat Tours.
If you didn't choose to stay at a huge resort, this is a fun outdoor activity for families who love waterparks. The park has five waterslides, a lazy river and a special pool for toddlers, among other attractions. Hours vary seasonally. Admission: free, ages 3 and under; $6, customers under 48"; $13, customers 48" and taller. Read reviews of the Sun-N-Fun Lagoon.
See delicate water lilies and other exotic plants at this sweeping Botanic garden. Spanning 170 acres, the attraction also has a children's garden. Open Tuesday-Sunday, 8 a.m.-4 p.m. Admission: free, ages 4 and under; $9.95, ages 4 to 14; $19.95, adults. Read reviews of the Naples Botanical Garden.
These are an easy way to see Naples as a whole. The tours cover over 100 points of interest, introducing you to the history of the city. Hours and prices vary based on tour. Read reviews of the Naples Trolley Tours.
Best Beaches in Naples:
Located in North Naples, this is a 5-acre popular family-friendly destination for locals and visitors alike. Read reviews of Vanderbilt Beach.
This is one of the most family-friendly beaches in Naples because it has a concession stand, sand volleyball courts, two playgrounds, picnic tables, and two gazebos for rent. Read reviews of Lowdermilk Park.
One of the most historic beaches in Naples, The Fishing Pier was built in 1888, and has been a popular place to fish and watch the sunset since then. Read reviews of Naples Municipal Beach & Fishing Pier.
This is a quieter option, and is one of the most pristine beaches in Naples. Here, you can paddle board, kayak, and hike, or just lay on the beach. Read reviews of Delnor Wiggins State Park.
MORE: Things to Do With Kids in Tampa
Top Attractions and Activities on Hilton Head Island
This article was originally published on