Things To Do in New Orleans With Kids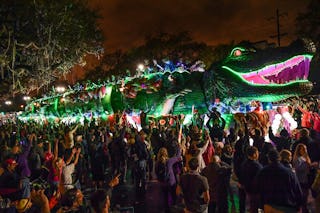 Erika Goldring/Getty Images
New Orleans is famous for its nightlife, but it also has plenty of options for family-friendly entertainment. Get lost in its rich history, enjoy traditional (and not so traditional) southern food, and get familiar with its wildlife. Here are our picks for best things to do in New Orleans with kids.
Attractions in New Orleans for Kids
Louisana Children's Museum has an exhibit for every interest, from the science zone to the art studio. And everyone will appreciate the chance to be enveloped in a giant bubble.
Ogden Museum of Southern Art is open seven days a week so you can check out the beautiful paintings and sculptures on your schedule. On Thursday nights, kids are invited into the museum to create their own art inspired by the pieces on display.
Area 51 Laser Tag offers walk-in reservations for small and large groups. Thursday nights they host a family night, which means you can get a large pizza, drinks, and a game for under $30.
https://www.instagram.com/p/BrbA2kylBgt/
Best Restaurants in New Orleans for Kids
Heard Dat Kitchen features a variety of southern comfort food for both the traditionalists and those who are looking for innovation in every dish. Try the Mardi Gras Mambo if you really want to get into the Big Easy spirit.
Two Chicks Cafe is the perfect spot to visit if you want a momentary moratorium on all the greasy goodness New Orleans has to offer and need to try something a little healthier. In addition to their selection of juices and smoothies, they also have fresh salads and sandwiches.
Bittersweet Confections isn't just stocked with awe-inspiring cakes. They also sell a dazzling selection of cookies, cupcakes, and even homemade truffles.
Ruby Slipper Cafe has plenty of local staples with a focus on breakfast. The kid's menu options all come with a side of french fries or bacon.
Willa Jean is part rustic restaurant, part bakery. So you can order a rabbit pot pie for dinner, then enjoy cookies and milk for dessert (which are served, charmingly, with an eggbeater full of cookie dough).
Best Hotels in New Orleans for Kids
Windsor Court Hotel isn't just pet-friendly—they'll make sure your pup gets its own bed for the night. What really sets it apart, though, is its gorgeous rooftop pool: take a swim as you take in the scenery.
French Market Inn has the classic decor you think of when you picture New Orleans, from the hanging lamps over the doors to exposed brick in the rooms. Kid's under 12 stay for free, and guests can enjoy the pool and free Wi-Fi.
Place d'Armes Hotel gets great reviews for its location alone—in the middle of the French Quarter by Bourbon Street. Check out the tropical courtyard, but make a note: this isn't a pet-friendly hotel.
Hotel Monteleone features an outdoor heated pool and the luxury Spa Aria. They also offer yoga classes three times a week, in addition to their 24-hour fitness center.
Hyatt Centric French Quarter New Orleans has a fully stocked business center and an outdoor pool. All the rooms are outfitted with modern furniture and accessories.
Outdoor Activities in New Orleans for Kids
Audubon Nature Institute packs in as much wildlife as you could possibly handle. You can visit the zoo, aquarium, and butterfly garden with three separate tickets, or get a combined zoo/aquarium pass to cover all land and sea creatures. The nature center also features a planetarium, which runs its shows Wednesday through Sunday.
City Putt is more than a 36-hole mini golf course. Each hole also offers a peek into the history and culture of Louisiana. Kids three and under get in free.
Steamboat NATCHEZ is sure to make you feel like you've gone back in time. If you want to experience New Orleans jazz as you float, there are also a selection of jazz cruises that pair the music with meals.
The Music Box Village is an installation that's sure to impress visitors of all ages. Local musicians fill the unique fairy light-drenched space, so check out the events calendar to see when certain acts will be using the space.
Tours in New Orleans for Kids
Airboat Adventures' Swamp Tours will give you an intimate look into the wildlife Louisiana is famous for—including alligators! Boat tours are available for small (6-8) family size groups, as well as groups up to 30. Kids as young as six can join the tours.
French Quarter Kids has a variety of tours designed not just specifically for kids, but for specific kids—broken down by age group and interest. Take your "Goosebumps" fans on the Spooky Tour and your slightly older ghost fans on the Tweens @ Twilight Tour.
Nation Tours are a way to see New Orleans on the streets without the bone-level exhaustion of a walking tour. Hop on a segway and scoot around the city. This is an activity for families with teens, kids must be 14 to ride.
MORE: Must-See Attractions In Denver
How to Enjoy Hilton Head, South Carolina as a Family
This article was originally published on